Jaded Heart | Common Destiny
by Mark Allen
Staff Writer —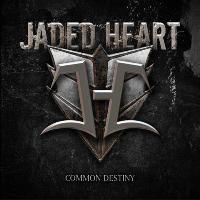 From '94 to '04, Jaded Heart, fronted by the golden voice of Michael Bormann, was a melodic hard rock band, and a great one at that. Then Bormann got kicked to the curb and the sound of his dismissal reverberated through the melodic rock community, signifying the end of an era. He was replaced by Johan Fahlberg and the change in singers was accompanied by a change in style; from 2005 onward, Jaded Heart was a heavier, more aggressive beast.
With this new album, Jaded Heart are trying to sonically splice the early years with the latter; as a result, Common Destiny still sports a harder edge than anything the band released with Bormann, but is more melodic than anything the band has released since Fahlberg stepped up to the mic. A win-win for everyone? Maybe…or maybe not.
Common Destiny is a good album, arguably the best of the Fahlberg-fronted offerings, but it still falls short of the greatness the band achieved with Bormann. Still, it's nice to hear some melody return to their soundscape. However, the band's metal-meets-melody merger is not without risks; instead of uniting the divided fan base, this could possibly alienate both camps. Fans of the Bormann years might still find this to be too metallic despite the melodic edge, and fans of the fiercer Fahlberg phase may resent all the lush harmonies and melodic undercurrent softening up their power metal crunch.
But when assessing the risk, it is also possible that Jaded Heart have struck the right balance. Certainly the album displays moments of greatness. The song "Saints Denied" is a balls-out anthem, full of attitude and pounding rhythms and explosive hooks and a monster chorus; if you plan on compiling a list of the best melodic metal songs of 2012, you better leave room for this one. "Run and Hide" is the closest the album comes to vintage Jaded Heart; it's easy to imagine Bormann belting out this classy melodic rock tune, complete with endless layers of harmonies. "My Destiny" serves as a blueprint of how to mix metal and melody without giving either short shrift. The slamming riff is big enough to dwarf an elephant, wicked enough to send a priest clutching for his crucifix, and prone to spawning spontaneous headbanging, but the chorus is sweet melodic bliss.
Granted, not all songs rise to such impressive levels—tracks like "Buried Alive," "No More Lies," and "Higher" just sort of plod along and leave you blasé—but there really are no outright duds. The song quality varies from so-so to superb and all grades in between, but you simply cannot call this a bad album. There is nothing on Common Destiny that will make you cover your ears and cringe. It's a solid, well-rounded effort with moments that are kind of bland and uninspired balanced by moments that will blow your skirt up over your ears. Sure, a few more up-skirt moments would have made this a superior affair, but the band hits the spot often enough to make this album worthwhile.
Bottom line, Jaded Heart have not fully re-embraced the polished melodic hard rock roots of their yesteryear, but they have taken strides to make this album more melodic than the last few releases. If you hated them in the wake of Bormann's departure, now might be a good time to bury your jaded cynicism and give these guys another shot.
Genre: Melodic Hard Rock, Metal
Band:
Johan Fahlberg (vocals)
Peter Oestros (guitar)
Michael Muller (bass)
Axel Kruse (drums)
Track Listing
1. With You
2. Saints Denied
3. Into Tears
4. Buried Alive
5. I Believe
6. Run and Hide
7. Are We Mental
8. My Destiny
9. No More Lies
10. Life Is Beautiful
11. Higher
12. Fire and Flames
Webpage: www.jadedheart.de
Label: Fastball Music
Hardrock Haven rating: 8/10