Jason Becker | Not Dead Yet
by Alissa Ordabai
Staff Writer —
U.K. premiere Report: June 16, 2012, Sheffield, UK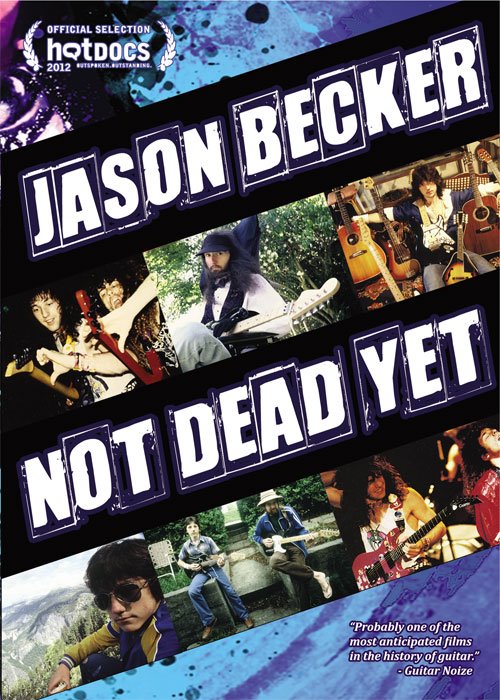 Few of us can imagine what it was like to be Jason Becker back in 1989 – a 20 year-old internationally acclaimed virtuoso about to start touring with David Lee Roth as his new guitarist. Even fewer can imagine what it's like to be Jason Becker now, after the onset of an illness which has deprived him of speech and movement.
The makers of the documentary Jason Becker: Not Dead Yet have done their best to offer a candid glimpse into how life has changed for Becker over the past 23 years, dispelling much of speculation and myth. And the biggest myth outside of the rock community was that Jason Becker has died, as was believed until recently by some of his school friends.
The film shows Becker not only very much alive, but staying creative and working on new music with the help of his father, who has devised a unique eye communication system for his son.
Aimed at an as wide an audience as possible – not just rock fans or guitar enthusiasts – the film chooses the right tone to tell a difficult story: reflective, but also with plenty of humor, most of it coming from Becker himself. The humor makes a tough subject easier to grasp, but also gives an extra breadth to the story. Moreover, it helps to see Becker as a multidimensional character, not only a paragon of human strength in the face of adversity, a virtuoso, a prodigy, an ALS sufferer, or a tragic hero, but as a real human character – complex and continuing to evolve.
Contributions from Becker's parents – on par with his own words – offer some of the most poignant insights. As the film's director Jesse Vile said during the Q&A after the screening, he fell in love with the Becker family during the making of the film. And it is hard not to follow his suit, as you watch them not only tell the story, but care for their son and interact with him in everyday life, charging the atmosphere around him with warmth and good vibes.
We also learn that the community plays a strong part in Becker's life – not just the local community, but the guitar community, who – according to the Becker's themselves – are both helping them steer clear from the meltdown some families in similar situations end up in.
In the dog-eat-dog world of music business where loyalty is rare, old friends, colleagues, and collaborators are speaking of Becker with admiration and emotion that instantly strike you as genuine. The most touching words come from Marty Friedman – a former Cacophony collaborator – who calls Becker "the coolest person I met in my whole life," and goes on to say something that takes both courage and love to utter: "Jason's never made me feel like, Fuck you, man, you got it, and I didn't."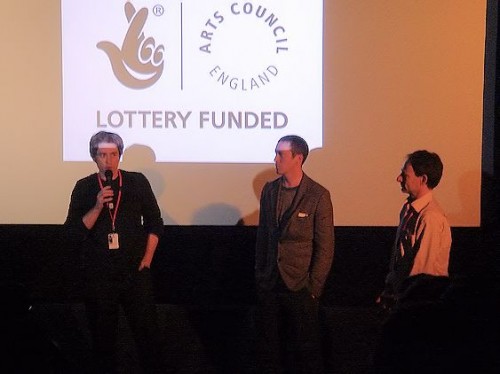 Other grand masters of guitar and industry honchos including Steve Vai, Mike Varney, Joe Satriani, and Richie Kotzen were interviewed for the film, and although interviews with some of them were cut to just a few words, you still get the feel of what a big subject it is for them.
A notable exception is David Lee Roth who Becker has recorded a full-length album with in 1990, and who doesn't appear in the film. Answering this writer's question during the Q&A, Vile shared that he had pleaded with Roth to appear in the film through his publisher, but had never heard back. He has nevertheless included Roth in the film credits.
The film being Vile's first feature and the subject being not only difficult, but in many ways highly specialized, it is not very surprising that the story of Becker as a musician is left somewhat incomplete. Aiming to appeal to a wider audience and focusing on telling a human story, Vile failed to convey what kind of influence Becker has had – and is still having today – on the world of rock guitar. Interviews with Kotzen, Friedman, and Satriani offering insight into Becker's continuing impact were – regrettably – edited out of the final cut. Becker's superb work as producer of Kotzen's debut album wasn't mentioned either, and Vile omitted to touch upon Becker's current contacts with up-and-coming stars of today's high-tech guitar.
But in the end we learn things which even the guitar community could only speculate about until now. Vile's avoidance of sentimentality, his sense of proportion, his tact and involvement on human level make up for his lack of in-depth knowledge of the world of rock guitar. And in the end the story comes out truthful and genuinely moving, which will hopefully ignite an interest among the general public in Becker's music.
Discography:
Cacophony
Speed Metal Symphony (1987)
Go Off! (1988)
Marty Friedman
Dragon's Kiss (1988)
Solo
Perpetual Burn (1988)
Perspective (1995)
The Raspberry Jams (1999)
The Blackberry Jams (2003)
Collection (2008)
David Lee Roth
A Little Ain't Enough (1991)
Joe Becker
Short Stories (2005)
Other works
Richie Kotzen (1989, producer)
Compilations
Guitar Masters, 1989, Roadrunner Records
Metal Guitars – High Voltage Instrumentals,1998, Disky Communications
Shrapnel's Super Shredders: Neoclassical,2009, Shrapnel
This is Shredding, Vol. 1, 2009, Shrapnel
This is Shredding, Vol. 2, 2009, Shrapnel
Tribute
Warmth in Wilderness: Tribute to Jason Becker, 2001, Lion Music
Warmth in Wilderness 2: Tribute Jason Becker, 2002, Lion Music
Instructional
Hot Licks – The Legendary Guitar of Jason Becker