Kissin' Dynamite | Money, Sex & Power
by Mark Allen
Staff Writer —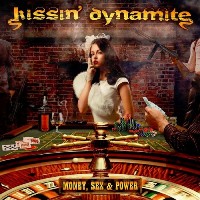 There is a song on Money, Sex & Power called "Sleaze Deluxe" and that title could also serve as a perfect two-word encapsulation of this album. For their third time at bat, these youngsters have knocked it out of the park by joining the ranks of the Swedish sleaze metal movement started by the likes of Hardcore Superstar, Crashdiet, and Crazy Lixx. Kissin' Dynamite may not be Swedish (they're German, actually), but they sound like they are.
Like all the aforementioned bands, Kissin' Dynamite have crafted a high-voltage style that takes old-fashioned Sunset Strip swagger and gives it a fresh incarnation through muscular modernization. This album is all hard rock anthems that are so big and fat that they border on obesity, packed with huge hooks, huge choruses, huge backing vocals…you get the idea. If you are turned on by loud guitars, banging rhythms, and gang vocal "Whoas!" and "Yeahs!" then you'll probably get off more times than a sex addict going on a three-day binge in a Bangkok brothel.
The energy on this fist-pumping head-banger of an album is right through the roof and any fan of the melodic sleaze rock format will find it impossible to resist the allure of these songs. Kissin' Dynamite have found their niche and here's hoping that now that they have found it, they don't abandon it down the road. The rock and roll world may not need another anthem-filled sleaze-metal offering from Kissin' Dynamite, but they will absolutely want it. Money, Sex & Power is the album that should make the hard rock legions take notice; following it up with another killer blow to the cochlea would rightfully catapult them into the big leagues of the sleaze rock revival.
Aside from the closing track, this album is filler free, but naturally, some songs stand out more than others and "Operation Supernova" is one such song. Trying to prevent your body from moving to the groove while this track is cranking is as much a waste of time as trying not to scream while passing a kidney stone the size of a pineapple. The chorus is so ridiculously addictive that you have no choice but to succumb to its sonic charms. Further down the line you get "Sex Is War," a pitch-perfect example of '80s-flavored sleaze with hooks big enough to hold up Rosie O'Donnell's sex swing, gang vocals galore, and a lyrical subject that should be pretty obvious from the song title. Then there is the oddly-titled "Dinosaurs Are Still Alive," which sounds like it will be stupid…and it kind of is, but in a cool kind of way. The song name-checks a bunch of '80s metal legends and sticks in your ears like chewed bubblegum sticks to the bottom of your rattlesnake skin boots.
Money, Sex & Power is a must-own. Beg, borrow, steal, or sell your body on the street corner…just do whatever you need to do in order to afford a copy. This fun, powerful, ultra-catchy slab of hairspray-and-hooks sleaze rock will blow your speakers as if a demolition expert had packed the woofers with dynamite.
Genre: Sleaze, Melodic Hard Rock
Band:
Hannes Braun (vocals)
Jim Muller (guitar)
Ande Braun (guitar)
Steffen Haile (bass)
Andreas Schnitzer (drums)
Track Listing
1. Money, Sex & Power
2. I Will Be King
3. Operation Supernova
4. Sex Is War
5. Club 27
6. Dinosaurs Are Still Alive
7. She's a Killer
8. Sleaze Deluxe
9. Ego-Shooter
10. Six Feet Under
Label: AFM Records
Webpage: www.myspace.com/kissindynamiterocks
Hardrock Haven rating: 9/10