by Joe Mis
Staff Writer —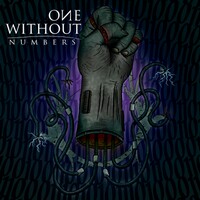 Sweden's One Without is releasing a 4 track EP entitled Numbers both as a follow up to their dynamic 2011 release Sweet Release and as a teaser to keep their fans happy while working on their next full length CD. They are continuing what has become a tradition – giving away their music at no cost, so this one is a real no-brainer.
Based in Gothenburg, this Swedish quintet continues to deliver the goods. Their trademark strong melodies, solid performances and dark and moody lyrics are present, but Numbers is an evolutionary step for the band. One Without has tightened their team work and further defined their unique sound with the addition of new drummer Håkan Strind (a.k.a. H-Can), who moved over from glam metal act Debbie Ray.
Fronted by the voices of Cat Fey and Kenny Boufadene, One Without is a leading example of "beauty and the beast" vocals. Fey has stepped up her game on the EP, moving an octave or two higher than normal but remaining calm and silky smooth. She never goes "operatic," but the high end of her range has been significantly upgraded. Her vocal counterpoint, Kenny Boufadene is a pure growler, and he has moved in the opposite direction – deeper and raspier, but still remains remarkably clear. His rough edges contrast nicely with Fey's smoothness, giving many of their harmonies an interesting sound. Boufadene continues to provide guitars along with Joonas Niskanen, giving the band a formidable one-two punch, although numbers seems to be more about vocals than guitars. Joni Kaartinen (bass) and H-Can (drums) provide a solid backbone, and both are exceptional players and are integral to the One Without sound. Keyboard and synths are more prominent in this release, and Boufadene has stepped up his vocals and is more of a co-lead singer.
Lyrically, the band has softened their edge a bit and is a little less dark. "The Lies" features two wildly divers vocal lines, with intense high speed growls and softer sweeping clean sounds – and a longer keyboard passage where one might have expected an intense guitar solo. Keys also open "Systematic Suffering," and the bouncy line has an almost pop-metal feel to it – in fact Fey's high range will remind the listener of Paramore's Hayley Williams – but the brutality of Kenny's vocals and intensity of the guitars have nothing "pop" about them. "Numbers" is a real metal track with contrasting vocals and varying tempos. "Involuntary Suicide" features some great duet vocals, and an intense driving rhythm line, and a nice keyboard interlude.
One Without covers all the bases and a variety of styles, and there are plenty of "different" musical moments to keep the listener involved. The One Without sound features the full suite of counterpoints: male & female vocals, clean singing & growls, slow vocal lines over fast rhythms, varying tempos, so there is little reason NOT to download it. There are moments here that will appeal to everyone. Musically solid and diverse in style, One Without continues to make a major impact on the goth metal and prog metal scenes.
One Without will be releasing tracks from Numbers using the new online music promotion platform OKDJ. Each track will be released on the same day and same time each week starting on Sunday 27th May at 9 pm GMT over a 4 week period. The full EP will then be digitally released on 24th June with fans being given the option to buy it if they want to or download the tracks free from OKDJ. Check the band's web site or Facebook page for more information and links.
Highly recommended!
Genre: Melodic Modern Metal
Band:
Kenny Boufadene (guitars, vocals)
Cat Fey (vocals)
Joni "Jupiter" Kaartinen (bass)
Joonas Niskanen (guitars)
Håkan "H-Can" Strind (drums)
Track Listing:
1. The Lies
2. Systematic Suffering
3. Numbers
4. Involuntary Suicide
Label: OW Records (Independent)
Website: www.onewithout.com
Hardrock Haven rating: 9/10