by John Kindred
Publisher —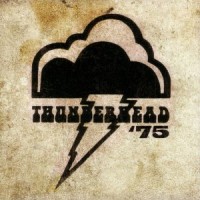 Four decades since Thunderhead recorded its debut album with the legendary producer Johnny Winter, the band has released '75. What so special about '75, you might ask? Well, this is the album that ABC Records shelved, requiring Thunderhead to re-record the music to be offered a recording contract with the label. With no other offers on the table, the band took the deal and re-recorded their debut album with producer John Haeny.
Flash forward to 2010, and, finally, after many years, the original recording that not only was produced by Winter but also features him playing on the music finally has seen the light of day. Knocking the dust off the original tapes, Thunderhead delivers nine songs that are molded from the blues-based-southern-tinged-hard-rock that was prevalent during the 1970s. The original band members included Bobby "T" Torello, Pat Rush, O.T. Ware, Ronnie Dobbs and Mike Dagger. Recorded in Bogalusa, La., at "The Studio In the Country," the album also featured Edgar Winter singing backup vocals and playing piano, and studio owner Bill "Bleu" handling engineer duties.
Thunderhead's sound is a little Johnny Winter, a little Dr. Hook and a little Jethro Tull, with hints of the Allman Brothers thrown in. The music best represents the sounds of the '70s with a country and a Southern rock influence carried out by the twin harmony guitar riffs. The drums make the music heavy and propel each song forward at a high velocity. Plenty of drum rolls and fills are a part of each song. Plenty of bluesy pentatonic leads grace the album and intertwine with twin guitar attack.
'75 delivers exactly what one would expect from the '70s: Fun, hot-rodded tunes that have a serious vibe but also can be more whimsical in lyrical nature. Highlights of the album include the instrumental song "Apathy," "Lay It on the Line," featuring melodies provided by the flute, "Houma," with its Dr. Hook-ish flair, "Busted In Georgia," with plenty of action from the drums and "Stop the Madness," which is driven forward again by the drums.
Much like Nirvana is credited for killing 1980's Hair Metal, Disco seemed to have derailed Thunderhead. With ABC Records unwilling to promote the "official" album and a lack of management, the band broke up in 1976. Mike Dagger, lead singer, and Bobby "T" Torello, drummer, resurfaced in 2010, releasing '75 and reforming the band. New bandmates include Chris Bickley, Dom DeMonico and Jeremy Barrett. Thunderhead again has returned to the touring circuit, so expect a new album sometime in the future.
Genre: Classic Rock, Blues Heavy Rock
Band:
O.T. Ware (b)
Ronnie Dobbs (g)
Bobby "T" Torello (d)
Pat Rush (g)
Mike Dagger (v)
Track Listing:
1. Busted In Georgia
2. Roll Up the Hill
3. Lay It on the Line
4. Make Your Own Good News
5. Apathy
6. Stop the Madness
7. Hit and Run Driver
8. Space Saver
9. Hourma
Label: CD Baby
Web: http://www.thethunderheadband.com/
Hardrock Haven rating: 7/10