Alan Williamson | Impressions
by John Kindred
– Publisher —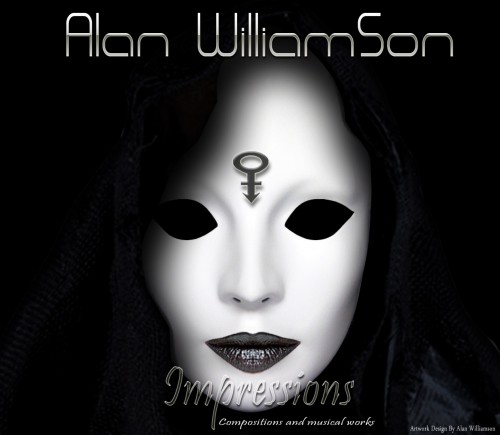 The United Kingdom's recent hosting of the Olympics brought the eyes of the world upon the nation. With the focus on London and pageantry heralding the world's greatest athletes, it is easy to overlook one of their own native sons, whose aspiring career as a musician has become his lifelong dedication. Alan Williamson set out to become a great guitarist, much like his own heroes, such as Hank Marvin, Chet Atkins, Mark Knopfler, Yngwie Malmsteen, Jason Becker, Steve Vai and Joe Satriani. Yet, as of today, he has moved beyond the singular ideal of just being a guitar player and has morphed into a multi-instrumentalist broadening his skills as a composer.
Williamson's latest studio release features a collection compositions that were written over the years but didn't have a home until now. This project is an extension of his main musical efforts which are mainly focused on fusion based hard rock instrumentals featuring the guitar as the lead instrument. Impressions contains 15 instrumental arrangements that highlight elements of classical, ambient, Celtic and symphonic influences. The music will appeal to those who love film scores. The majestic approach and instrumentation should and could land any one of these songs into a fantasy-style or even an animated full-length movie.
While Williamson's primary instrument is the guitar, the instrument takes a back seat to the rhythmic pulse of layered keyboards, drums and percussion and lavish orchestrations. Not to say that his fret-board wizardry doesn't make an appearance; "Spheres," features a haunting acoustic-electric melody, and "Melodica," showcases his brilliant phrasing and melodic touch. The remaining songs showcase other instruments as the main melody. Williamson utilizes several voicings that evoke an emotional response from the listener, including male and female vocal choirs, harpsichords, synthesizers, Middle Eastern female vocal and the piano.
The music is Epic in its grandeur and calls upon diverse influences. "The Sultan's Curse" is a foray into Middle Eastern instruments and melodies. "Kingdom" and "The Spoils of War" are huge instrumental opuses that would fit well into the Lord of the Rings or Gladiator soundtracks. "The Human Stain" would find a home in any period 16th or 17th century movie. Seriousness is not always a featured element, as Williamson offers up the whimsical "Comedy of Errors," which is playful and fun. Truly a world full of gems are featured on Impressions.
In a word, depth, is what Alan Williamson brings to his compositions. The music is well thought out and intricate, and yet, it appeals to all music lovers. His explorations go far beyond the guitar, and he is unwilling to sacrifice the music for the sake of showcasing his ability to solo or shred, which he has the ability to do when needed. In his world, the song comes first, and all the instruments are developed to support the main melody or theme of each particular composition.
As stated in a previous review, "Alan Williamson continues to write compositional material that is not exclusively dependent on the life blood of the fret-board," (Across Angry Skies review). This holds true today as Alan Williamson is brilliant and truly an undiscovered talent to the world.
Genre: Film Score, Classical, Ambient, Celtic, Symphonic
Musician:
Alan Williamson – All compositions, orchestration and arrangements, keyboards, percussion, guitar.
Track Listing:
1. Kingdom
2. The Valley Of Eden
3. The Human Stain
4. The Hero
5. Celtic Air
6. Comedy Of Errors
7. Ghosts
8. Forgotten Things
9. Melodica
10. Mezzo Forte
11. The Woodland Realm
12. Spheres
13. The Crystal River
14. The Spoils Of War
15. The Sultans Curse
Label: Silhouette Records LTD
Web: https://www.facebook.com/alan.williamson.3154
Hardrock Haven rating: 9.5/10
Discography:
Another Kind Of World (2002)
Acoustical Horizons (2003)
Across Angry Skies (2005)
Spectrasonix – X (2011)
Rendition (2012)
The Road Less Traveled (2012)
Elements (Trance Album) – (2012)
Another Kind Of World "Revamp" (2012)
Dark Matter (2012/2013)
Work For other People:
Subsignal – Beautiful & Monstrous (2009) – (Composed the song "Paradigm")
Frozen Rain – Frozen Rain (2008) – (Rhythm Guitars on the song "Your Love")
Nikki Lee Taylor – Driving (2010) – (Composed the music and produced the song "Driving")