by Alex Barbieri
– Columnist —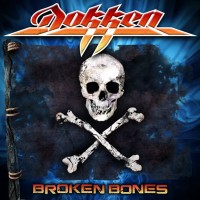 Don Dokken has said publicly that Dokken's latest album, Broken Bones, will be their last. If the new album is Dokken's swan song, then the band is finishing a 30-plus year career (Don Dokken founded the band in 1978) at a creative apex and musical high-water mark.
Broken Bones is Dokken's 11th studio album. It was recorded over 13 months at both Don Dokken's and guitarist Jon Levin's identical home studios in California. The new album delivers the signature Dokken sound that fans know and love, but pushes the creative comfort zone a bit more than 2008's Lightning Strikes Again.
Where Lightning Strikes Again seemed like a deliberate effort to re-capture the classic Dokken sound, Broken Bones finds Dokken and Levin expanding. Dokken, who successfully recovered from throat surgery last year, generally sings lower and more melodically than on earlier releases, but his "whisky and cigarettes" voice has matured well and is appealing as always. The harmonies are exceptional throughout, courtesy of former Yngwie Malmsteen vocalist, Mark Boals. Read Boals' recent Hardrock Haven interview.
Jon Levin —who impressed the hard rock world by nailing former guitarist George Lynch's sound and style in the studio and live— still captures Lynch's familiar sound, but adds more of his personal flair. Levin is a phenomenal lead and rhythm guitarist, and deserves to be acknowledged as more than just a Lynch clone.
Highlights on Broken Bones: Opening track "Empire," a "Kiss of Death"-style barnstormer, but with better lyrics and a cool breakdown; title track "Broken Bones," a mid-tempo rocker that would have been all over MTV back in the day, and the gentle, vulnerable modern acoustic ballad, "Today." (Guys, take a romance tip: Play this one for your lady and watch her melt.)
Bassist Sean McNabb and original drummer, "Wild" Mick Brown —who was recently replaced by Y&T/Megadeth drummer Jimmy DeGrasso— are a flawless rhythm section, laying it down and letting Dokken's voice and Levin's guitar take center stage.
If there's one complaint about Broken Bones, it is the lame cover art. The cliché skull and crossbones looks like a student designed it for a battle of the bands. No, a band this pro and accomplished deserved a more creative, conceptual cover. But that's a minor complaint, considering the quality of songs and musicianship on Broken Bones.
Speaking of quality, a salute to Serafino Perugino, head of Italy's Frontiers Records, for his ongoing dedication to releasing consistently high-quality melodic hard rock albums from some of the world's best bands.
To Don Dokken and company, congratulations on another excellent release—we wish you a bon voyage to future projects. If Broken Bones is indeed Dokken's "Last Goodbye," it will be hard to just "Walk Away," but Broken Bones is a respectable swan song to a storied 33-year career.
Genre: Hard Rock
Band:
Don Dokken – Vocals
Jon Levin – Guitar
Sean McNabb – Bass
"Wild" Mick Brown / Jimmy DeGrasso – Drums
Track Listing:
01. Empire
02. Broken Bones
03. Best of Me
04. Blind
05. Waterfall
06. Victim of the Crime
07. Burning Tears
08. Today
09. For the Last Time
10. Fade Away
11. Tonight
Label: Frontiers Records
Online: http://www.dokkencentral.com/
Read a recent Hardrock Haven interview with Dokken guitarist, Jon Levin.
Hardrock Haven rating: 7.5/10
Order Broken Bones on Amazon: http://www.amazon.com/Broken-Bones-Dokken/dp/B008O33S0O