Ian Gillan and Tony Iommi | WhoCares
by Steve Patrick
– Columnist —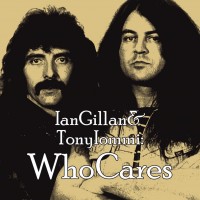 Humanitarianism and metal music are rarely closely associated (except for the glory of Hear 'n Aid, of course). However, in 2011 Ian Gillan and Tony Iommi, two metal legends, assembled a group of musicians under the moniker of WhoCares to raise money to rebuild a music school in Gyumri, Armenia after the city was destroyed in an earthquake in 1988. Actually, Gillan has been involved in the Armenian relief efforts ever since the earthquake.
The all-star group of players performing on the two original songs on this 2-disc collection is quite an impressive lineup. WhoCares is made up of the late Jon Lord on keyboards, ex-Metallica bassist Jason Newstead and Iron Maiden drummer Nicko McBrain, HIM guitarist Mikko Lindström, Gillan on vocals and Iommi on lead guitar. Earlier the two original songs "Out of My Mind" and "Holy Water' were released as a 2-song single.
The success of the single prompted Gillan and Iommi to expand on the new songs and release this WhoCares double-album. The material across these two discs will delight any Gillan and Iommi fan as it features classic tracks, deep cuts, and previously unreleased songs. Predictably, Born Again material is represented by the inclusion of "Zero the Hero" and "Trashed" (although the version here is from the Gillan's Inn album).
Gillan's offerings in this collection are decidedly more diverse musically than Iommi's. The exotic sounding "Get Away," a collaboration with Greek singer Michalis Rakintzis offers a nice counterbalance to the album's heavier material. There is even a track that features Dr. John playing piano with Gillan on vocals. Also, the acoustic radio version of Purple's classic "When A Blind Man Cries" is an absolutely haunting version and really demonstrates the diversity of the song.
Fans of Iommi's most recent collaboration with Glenn Hughes will enjoy this collection as well as there are two previously unreleased tracks from the Fused sessions. These tracks are far and away the heaviest songs present in this collection. Also, "Anno Mundi" from the Black Sabbath album Tyr seems to be included at random and does not fit very well as a result.
Any fan of hard rock or heavy metal will have a smile on their faces when hearing Ronnie James Dio trade vocals with Gillan on the included live version of "Smoke on the Water" from the Royal Albert Hall in 1999. Additionally, diehard Purple fans will be delighted to hear the rare jam "Dick Pimple" released formally for the first time here.
This WhoCares collection is a great collection for longtime fans of either Gillan or Iommi and their related output. The price of this collection is well worth it for the rare tracks alone, but is especially worth it when considering that this is in fact a charity album. Everyone wins when you can buy quality music and help out someone in need. WhoCares? You should.
Genre: Metal
Track List:
Disc 1
1. 'Out of My Mind'
2. 'Zero the Hero'
3. 'Trashed'
4. 'Get Away'
5. 'Slip Away'
6. 'Don't Hold Me Back'
7. 'She Thinks It's a Crime'
8. "Easy Come Easy Go'
9. 'Smoke on the Water'
Disc 2
1. 'Holy Water'
2. 'Anno Munde'
3. 'Let it Down Easy'
4. 'Hole in My Vest'
5. 'Can't Believe You Wanna Leave Me'
6. 'Can I Get a Witness'
7. 'No Laughing in Heaven'
8. 'When a Blind Man Cries'
9. 'Dick Pimple'
Label: Eagle Rock Entertainment
Web: www.gillan.com
Hardrock Haven rating: 8/10