Staind | Live From Mohegan Sun
by John Kindred
– Publisher —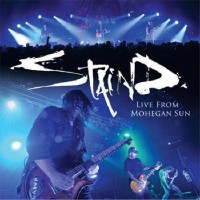 Live From Mohegan Sun is the first official live album released by Staind. The CD was recorded in November 2011 at the Mohgan Sun Casino in Montville, Conn. The experience also was captured on film and subsequently has been released on DVD and Blu-ray by Eagle Rock Entertainment. The concert was recorded during their first tour stop supporting the self-titled seventh studio album.
After the departure of drummer Jon Wysocki earlier in the year, Staind returned to the road. The lineup featured new drummer Joseph "Sal" Giancarelli, along with Aaron Lewis, Mike Mushok and Johnny April. The live album features 16 songs, and even though it was the first show of the tour, the band seems to be in good musical form.
The band's modern metal approach is built around down-tuned guitars and bass riffage. And while it might make it easier for a vocalist to sing over, if he doesn't have a great vocal range, it doesn't make the music any heavier. Oftentimes, the presentation is a muddy indistinguishable mess, especially live. The fact is that heaviness can be created with slower, plodding tempos. While most metal usually is tuned down a half step to E-flat; tuning to D or C tends to make the music sound sloppy and loose.
Staind likes to tune down, and the singer likes to try and be death metal with attempts at guttural vocals. Within the context of their plodding modern metal tunes, this type of vocal delivery doesn't work. Lewis has a voice that appeals to "regular Joes;" it's nothing spectacular. But his voice has an emotional appeal that works when he sings at a quieter volume or performs in an acoustic, unplugged setting.
Sonically, the band sounds pretty tight, and the music is mixed fairly evenly. They open with "Eyes Wide Open." On the CD, there is no introduction of the band, with no fanfare at all. The heavy tune is a bit jarring as it leaps at you out of the blue. The heavy music Staind performs doesn't compare to their more emotional songs; it's as if they are trying too hard. The hits "For You," "Right Here" and "So Far Away" have a radio-friendly familiarity theme. It seems like the music shines when they add the textures of acoustic-electric guitars and quiet verses with powerful heavy, anthem-style choruses.
Honestly, fans of Staind will like Live From Mohegan Sun. But their music is jarring and indecisive and non-fans will be confused about the identity of the band, just from this live album alone.
Genre: Modern Heavy Metal
Band:
Aaron Lewis (vocals, guitar)
Mike Mushok (guitar)
Joseph Giancarelli (drums)
Johnny April (background vocals)
Track Listing:
01. Eyes Wide Open
02. Falling
03. Right Here
04. Throw It All Away
05. Spleen
06. Fade
07. Failing
08. So Far Away
09. Crawl
10. For You
11. Paper Wings
12. Outside
13. Not Again
14. It's Been Awhile
15. Mudshovel
16. Something To Remind You
Label: Armoury Records / Atlantic
Hardrock Haven rating: 6/10