The Dollyrots | The Dollyrots
by Derric Miller
– Managing Editor —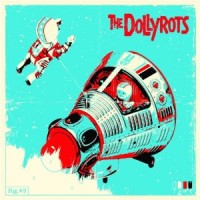 After The Dollyrots third studio album, A Little Messed Up, things seemingly got a little messed up. Drummer Chris Black left the band, and they decided to forgo releasing another album on Joan Jett's Blackheart Records. Instead, the uber-grounded and hyper-accessible band took the DIY approach and used Kickstarter to create a funding mechanism for their fourth studio release. When your goal is $7,500 and you nail it at over $33,000 … you have an extremely supportive fan base who is addicted to your music.
You don't have to deconstruct the album lyrically, which begins with "Starting Over" and ends with "Starting Over Again," to get a feel that the band has turned the page on the novel of their past and are scribing the novel that takes them into the future. "I Wanna Go" is the first full track, and it's sheer pop candy, anthemic and of course, with lyrics like "What doesn't kill you makes you stronger," you can get a feel that The Dollyrots are steeled to take on all new obstacles. None of this would matter if the bubbly, hooky and danceable music was boring or trite. But it's not. Singer/bassist Kelly Ogden continues to build upon her strengths as a vocalist, belting out the chorus while softly whisper-singing the bridge, and it's clear that Ogden and guitarist Luis Cabezas make a stellar songwriting machine.
One of the catchiest choruses you'll feel is on "Hyperactive," and there's a reason they chose this as their first single and video. Sure, there's the lines you expect like "It's your duty to shake your bootie, to be fantastic and kind of tragic," but it's the absurdly simply and effective chorus that is really "We are we are, like animals, oh wow …" that proves The Dollyrots could sink a hook into the silver lining of a thundercloud without even trying.
You will feel a bit more … mature … take on the songs as well. For instance, you'll hear the word "moody" several times throughout the album, as with the track "Satellite." This spacy, poignant composition just emotes growth from a songwriting perspective, especially during the chorus with "It was cloudy, you were moody, not a star in sight so we wished on a satellite." You get a "bereft" feeling from those types of sentiments, and it makes for mesmerizing music.
Nothing wrong with finger-snapping foot-stomping tracks, and the rap-ish "Twist Me to the Left" is well, a hyperactive take on the band's journey around the U.S. and the world. With goofy, playful lyrics, this should be a hit for the band as well.
But then they pull the hula-hoop off your neck and come at you with "Time Will Stop" next. Like "Satellite," this is one of Ogden's strongest vocal moments, perhaps ever. It's a love song, a tale of lovers 50 years down the road, running into the ocean together, full of hope and somehow, wanting to be together forever. Perchance one of the songwriting duo has found true love, because it's certainly popping up in the songwriting …
The Dollyrots obviously are not affected by or enamoured with fame, or riches, or judging people based on their bank account or even physical characteristics. If you don't get it, listen to "F U Famous" and it'll all crystallize before your ears.
Known for their snarky and brilliant "Because I'm Awesome," they followed up on A Little Messed Up with another biting and inviting song "Big Mouth." You will be looking for that obvious offspring once you hear the self-titled album, and the closest is probably "Pretty On the Outside." This is the Ogden most have come to know, with her melodic ability to surgically strike on the great soulless masses of Hollywood and the elite with an edgy lyrical diatribe, spitting lyrics like "Never eats right, but she's skinny," and the chorus of "If she swallows her make-up, will it make her pretty on the inside?" it may be the track most fans glom on to.
But … if you want something new from The Dollyrots, then "South of the Border" is an excellent example. It's almost like Chris Isaak and Cheryl Crow wrote a song for the band. It has a certain Caribbean flare, and except for maybe the chorus, you cannot paint this into the Pop Punk corner. After hearing the album a few times, it's the standout song based on uniqueness alone.
Do you want to see the end of the world with The Dollyrots? "2012" is that song, written about the "impending" Mayan calendar doomsday date. This is not typical topical songwriting matter for The Dollyrots, but hey, start living or start dying, and as this track bleeds into "Starting Over Again" and the whole thing comes full circle with the words "Doesn't matter, start it over again!" you'll know where The Dollyrots stand.
It's almost like someone gave The Dollyrots the perfect formula to propel their career onward and upward. Keep the fans that got you this far, write enough atypical music to gain the interest of new listeners, and above all … be authentic, be yourself, and love what you do. It's all there, and a hell of a lot more, if you take a listen.
Genre: Rock, Pop Punk
Band:
Kelly Ogden — bass/vocals
Luis Cabezas — guitars
Track listing:
1 Starting Over
2 I Wanna Go
3 Hyperactive
4 Satellite
5 Twist Me To The Left
6 Time Will Stop
7 So Wrong It's Right
8 F U Famous
9 Pretty On the Outside
10 South of the Border
11 After 2012
12 Starting Over Again
(Hidden) Because I'm Awesome 2012
Label: Arrested Youth Records
Online: www.thedollyrots.com
Hardrock Haven rating: 8.6/10