Cyanide 4 | Everyday is a Masquerade
by Nikiforos Skoumas
– Columnist —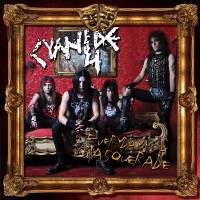 Finally released is the debut album by the premiere Greek sleaze metal group, Cyanide 4, Everyday is a Masquerade issued by Perris Records. It has been well over a year since the release of their EP Mental Erosion Critical and a good few enthusiasts of the genre were eagerly anticipating a full length debut album. The line up features founder singer and guitarist G.A. Sinn, bassist Nasty George, lead guitarist Johnyy Slut and new drummer Alex Rated.
Through their EP it became evident that Cyanide 4 are more than able to deliver relevant to-the-point glam rockers with the choruses and vocal harmonies being their strongest artistic selling points. Equally important is the fact that the quartet performs sleaze in a very melodic fashion which is a fairly rare feat for a band of this genre. You will find the lead guitar carrying significant melodic lines through most parts of each song which perfectly harmonize with the vocals-the guitar solos are also expansions of those melodies. So clearly Cyanide 4 have very little in common with the sleaze bands that play basic dirty rock 'n roll, instead they draw more towards melodic hard rock and melodic metal.
The songs featured on this debut have been featured in the band's live arsenal for a good few years. We are looking at a track-list that has been tested time and time again on stage; now one can gladly admit that the Cyanide 4 repertoire works equally well on record. The opener "Hide in the Shadow," "Live the Life," "Temptation Failed," "Innocent Alibi," "FFL," "Wasting my Time" and "Bad love" are more than examples of first class sleaze metal as they could be regarded as potential classics of the genre. Believe it or not, there is something in the quartet's songwriting and performance that makes their material instantly appealing to just about anyone into hard rock.
So those into hair metal, please keep in mind that Cyanide 4 is not just another sleaze metal band. This debut is perfect validation that the quartet could stand toe-to-toe with the leading bands of the scene. Talking about music in comparative terms has rarely been constructive yet one has to conclude that Cyanide 4 are by far the best Greece has to offer when it comes to sleaze.
Genre: Sleaze Metal
Line Up:
G.A. Sinn- Vocals / Rhythm Guitar
Johnyy Slut- Lead Guitar
Nasty George – Bass
Alex Rated- Drums
Tracklist:
1. Hide In The Shadow
2. Live The Life
3. Temptation Failed
4. Innocent Alibi
5. Anything For Fun
6. Parody
7. Cyanide
8. F.F.L.
9. Wasting My Time
10. Illusion
11. Bad Love Parade
12. Amnesia
13. Midnight Heat
Label: Perris Records
Hardrock Haven rating: 8.5/10