Gary Moore | Blues for Jimi
by Nikiforos Skoumas
– Columnist —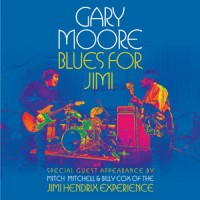 With the 70th anniversary of Jimi Hendrix' birthday round the corner, Eagle Records delivers arguably the most relevant tribute release one could have hoped for: Gary Moore plays Hendrix! It is the work of rock's ultimate icon recreated by Irish guitar hero and master of all rock styles (whether that is hard rock, AOR, heavy metal, blues or jazz) Gary Moore.
Gary Moore had always been keen on celebrating his influences by performing works of his heroes on stage. Back in the mid '90s Moore paid tribute to pioneer British blues guitarist Peter Green, having put together a set of Green highlights which he delivered both in the studio and on stage- the classic Blues For Greeny and Blues For Greeny Live releases.
In similar fashion, on the 25th of October 2007, Gary and co stormed through a live set of Jimi Hendrix classics at the London Hippodrome celebrating the 40 years since the formation of The Jimi Hendrix Experience. That night was captured on tape and video and is now being released as Gary Moore – Blues For Jimi; two years following Gary's passing away.
Those that have followed the Irish legend's career know well that there is noting Gary can not play, particularly when it comes to the work of his heroes. From Peter Green to Cream, to the Bluesbreakers, all have been recreated by Gary's fingers in the most convincing and intense manner possible. And the music of Hendrix proves to be no exception. The eleven songs featured on this album remain faithful to the original versions in terms of chords and melodies, but when it comes to the improvisations and jamming Gary demonstrates a fluency that breaks out of the Hendrix-box. It is perfectly evident from the album alone that Gary is totally comfortable playing Jimi's material and sounds like he is having good fun while doing so; joining him on the last four tracks are Jimi Hendrix Experience members Mitch Mtchell and Billy Cox, making the evening an official celebration of Jimi's work.
It goes without saying that Gary Moore-Blues for Jimi is an absolutely essential purchase for any fan of classic rock. It is the work of a larger than life icon performed by the most accomplished guitarist of our time. If you know Jimi and if you know Gary then you know that Blues for Jimi is already a classic.
Genre: Rock, blues-rock
Line up:
Gary Moore: guitar & vocals
Dave Bronze: bass
Darrin Mooney: drums
Billy Cox: bass & vocals
Mitch Mitchell: drums
Tracklist:
01. Purple Haze
02. Manic Depression
03. Foxy Lady
04. The Wind Cries Mary
05. I Don't Live Today
06. My Angel
07. Angel
08. Fire
09. Red House
10. Stone Free
11. Hey Joe
12. Voodoo Child (Slight Return)
Label: Eagle Rock
Web: http://www.eagle-rock.com/
Hardrockhaven rating: 10/10