Herman Frank | Right in the Guts
by Nikiforos Skoumas
– Columnist —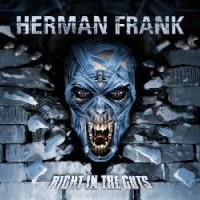 German guitar hero Herman Frank is a metal artist at the top of his game. A full time member of the reunited Accept and a key contributor to the subsequent albums Blood of the Nations and Stalingrad, Herman had always been keen to forge his own path ever since he left the Teutonic juggernaut after the release of Balls to the Wall.
As a band-leader Frank put together the German-American hard rock, melodic metal outfit Victory in the mid-'80s while forming a variety of other projects beyond his two main bands. Most notable are Poison Sun, a female fronted melodic metal project and his solo work. Right in the Guts is Frank's second solo album, a follow up to 2009's Loyal to None. It would be fair to say that Loyal to None clearly surpassed the guitarist's previous releases in terms of performance intensity and showmanship and technique; that was very much due to the line up featuring Victory front-man Jioti Parcharidis and current Accept stick man Stefan Schwarzmann.
It has been three years since Loyal to None and Herman has to reform his solo outfit from scratch. This time bringing in second guitarist Chris Mamalitsidis, bassist PeterPichl, drummer Michael Whoppers and lead singer Rick Altzi. Rick Altzi of label-mates At Vance, proves a perfect fit to the line up with a similar vocal style and range to that of his predecessor.
In terms of musical direction, Right in the Guts picks up where Loyal to None left off. What we have here is furious melodic-power-metal featuring commanding guitar leads and totally punitive choruses. Once again the entire line up seems to be performing to the best of their abilities while thankfully the songwriting brings out the best of each performer. "Roaring Thunder," "Starlight," "Hell isn't Fair" and "Lights are Out" are more than enough to overwhelm seasoned fans of the genre, especially when played loud.
Right in the Guts is "True Metal" literally as it grabs the listener by the neck without having to go brutal or drop tune; it really is all about great songwriting and even greater performance. As a conclusion, one should not mistake Right in the Guts for just another side-project, there is material here that not even the reunited Accept can match.
Genre: Melodic Metal, Power Metal
Line Up:
Herman Frank (guitar)
Rick Altzi (vocals)
Peter Pichl (bass)
Michael Wolpers (drums)
Cristos Mamalitsidis (guitar)
Track List:
1. Roaring Thunder
2. Right In Your Guts
3. Ivory Gate
4. Vengeance
5. Starlight
6. Falling To Pieces
7. Raise Your Hand
8. Waiting
9. Hell Isn't Far
10. Kings Call
11. Lights Are Out
12. Black Star
13. So They Run
Label: Metal Heaven
Hardrock Haven rating: 8.5/10