Heaven's Basement | Filthy Empire
by John Kindred
– Publisher —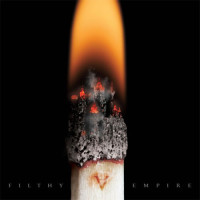 The resurgence of hard rock and metal bands hailing from the old empire continues as Heaven's Basement releases its debut album on Red Bull Records. Original members Chris Rivers on drums and guitarist Sid Glover are joined by bassist Rob Ellershaw and vocalist Aaron Buchanon to unfurl the flag and kick some serious ass on their new album. From the East Midlands in England, Heaven's Basement has been paying its dues on the road, opening for major acts, such as Papa Roach, Buckcherry and Shinedown. The band independently released the seven-track EP Unbreakable in 2011 and aims to follow that up with 12-song scorcher of Filthy Empire in 2013.
Filthy Empire was produced by John Feldmann, whose production credits include him working with bands such as Papa Roach and Black Veil Brides. What follows is a bold, hard-hitting album that is full of anthem-style choruses, mixing the best of the '80s and '90s hard rock scene with today's modern metal sounds.
The riffs are heavy enough right out of the gate to warrant your immediate attention. Aaron Buchanan's vocals ice the cake early and often. His vocals are slightly gravelly, but not too much, and he has impressive range. It's not a problem for him to open up and sing in full-voice; with his vocal strength, he could rip your face off without the use of a PA and microphone.
The tunes are finely crafted excursions into the realm of rock. Elements of hard rock and metal intertwine with hues of alternative vibes. Much of the album features tunes with modern metal verses that slam into '80s-style arena choruses that are big, bold, ferocious and loud sing-along songs. The band harnesses a raw energy that instantly hooks the listener into their audio whirlwind.
The pacing of Filthy Empire seems to make the album fly by. This is apparent even with the inclusion of songs such as "Be Somebody" and "The Price We Pay," which are as close to ballads as the band gets on disc. With a run time of 45 minutes, Heaven's Basement wastes no time in making its mark before the final note is played on "Executioner's Day." Everyone is going to have a favorite track or two. There absolutely is no filler to be found throughout the entire CD. Songs such as "Nothing Left to Lose," "When the Lights Go Out in London," "I Am Electric" and "Heartbreaking Son of a Bitch," all, are blistering barn burners.
Filthy Empire shows Heaven's Basement can "rawk" with the best them. The album is a worthy addition to your music library. This definitely is a "Top 10" release for 2013, so get out there and get a copy when it's released in February.
Genre: British Hard Rock
Band:
Aaron Buchanan – Vocals
Sid Glover – Guitar
Rob Ellershaw – Bass
Chris Rivers – Drums
Track Listing:
1. Welcome Home
2. Fire, Fire
3. Nothing Left to Lose
4. When the Lights Go Out in London
5. I Am Electric
6. The Long Goodbye
7. Heartbreaking Son of a Bitch
8. Be Somebody
9. Can't Let Go
10. The Price We Pay
11. Jump Back
12. Executioner's Day
Label: Red Bull Records
Web: http://heavensbasement.com/
Hardrock Haven rating: 9.3