Deep Purple | Live in Paris 1975
by Alissa Ordabai
– Senior Columnist —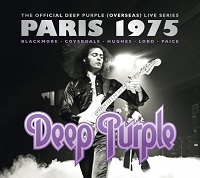 A document of disintegration of a once dazzling band, this release also shows what dissatisfaction can bring out in true artists. In 9 years time Deep Purple would resurrect with swaggering assurance, but already without David Coverdale and Glenn Hughes. Both, however, put their own – and a rather discordant – stamp on the album in hand. Blackmore would leave in 2 months, and you can hear his inner unrest brewing – so high-strung and fragmented is his playing.
Radically different from the inspired spontaneity of Deep Purple's most successful live release "Made in Japan" (recorded just three years earlier in "classic" line-up) this comes through as a skittish, divergent affair. On edge and conflicted, Blackmore, paradoxically, ends up bringing to light some seldom-revealed sides of his character. He sounds almost mournful during the blues impro on "You Fool No One," and on "The Gypsy" he shows how strategically dotted pauses can have as much power as the actual notes.
But it's his solo on "Smoke on the Water" (what else?) that becomes the biggest highlight of the set. A tightrope walk, it plays out a tense inner discourse in several different voices, unpredictable and futuristic, echoing the experimental spirit of the band's early days. And it takes Lord's conventional parts to let you know that the Sixties are over and more prosaic times are now upon us.
Coverdale too brings out some poignantly lyrical moments, but with childlike impulsiveness at times bordering on surrealism. Blackmore's rapport with him is AWOL, especially compared to the intuitive telepathy they used to indulge in with Gillan a few years before. But here the singer and the guitarist seem to function completely autonomously to avoid the risk of direct interaction. In fact, whenever Coverdale does take risks, he acts entirely on his own – with primordial screams treading the line between the semi-conscious and the deliberately grotesque.
Unpremeditated improvisation fills a lot on this record, giving it that loose, jammy feel with the inevitable dross among the gems. And in places it becomes perhaps too haphazard, cancelling out the band's unity of purpose. Illustrating the time when rock was beginning to lose its idealistic spark under pressures from big biz, the album depicts tired artists struggling to maintain artistic integrity, but still clinging to the joy of musicianship while on the very verge of a burnout.
The record was originally released in 2001 by Purple Records and is now being re-released with interviews with Coverdale, Hughes, and Paice thrown in. Unfortunately, we don't get to hear from Blackmore, although he is the main figurant of this album. Music mixed into someone talking is perhaps the most annoying idea the producers could have come up with. But it still doesn't completely distract from the amusing anecdotes shared by Coverdale and Hughes on their time with the founding fathers of British rock.
Genre: Hard Rock
Personnel:
David Coverdale – lead vocals
Ritchie Blackmore – guitar
Jon Lord – organ, keyboards, backing vocals
Glenn Hughes – bass, backing vocals
Ian Paice – drums, percussion
Track Listing:
1. Burn
2. Stormbringer
3. The Gypsy
4. Lady Double Dealer
5. Mistreated
6. Smoke on the Water
7. You Fool No One
8. Space Truckin'
9. Going Down
10. Highway Star
11. Interviews with Coverdale, Hughes, and Paice
Label: earMusic/Eagle Rock Entertainment
Online: www.deeppurple.com
Hardrock Haven rating: 7/10