Mindwork | Into the Swirl
by Justin Gaines
– Senior Columnist/News Editor —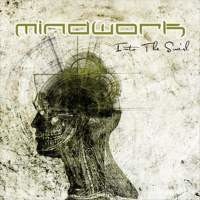 Hailing from the Czech Republic, pogressive/technical death metal band Mindwork released their debut album, titled Into the Swirl, in 2009. This previously self-released album went mostly unnoticed, but has been newly reissued here in the US by the Divebomb label (who also reissued their 2012 follow-up Eterea).
While Mindwork would do more to develop their own sound later, on Into the Swirl what you get is a band that is heavily influenced by Cynic and especially late period Death (think Sound of Perseverance and Individual Thought Patterns). This is a highly technical affair first and foremost, but the requisite death metal elements are in place. Guitarist/vocalist Martin Schuster's intricate guitar work and jazz-inspired compositions dominate Into the Swirl, and are likely to impress even the most jaded Watchtower and Spiral Architect fans. Filip Kittnar's drumming is equally dazzling.
Where the album falters a bit is that it has such a technical focus that there isn't much to resonate with listeners emotionally. This is fine if instrumental pyrotechnics are your main interest in the first place, but if you're looking for more spirit than mathematics, you're probably not going to find it on Into the Swirl. Fortunately the band corrected this on their follow-up album Eterea, which had some atmospheric elements to go with the sheer technicality.
If you're a fan of all things technical, but especially bands like Cynic, Spiral Architect, Atheist, Watchtower and later Death, Into the Swirl is pure ear candy. If you prefer your technical metal to have a little more depth, Eterea makes for a better introduction to Mindwork's sound. Either way, Mindwork is a band that deserves a much wider audience.
Edition Notes: Divebomb's 2013 reissue of Into the Swirl features Mindwork's 4-song 2008 demo Inside the Consciousness as bonus tracks. It's a limited pressing and is only available on CD.
Genre: Death Metal, Progressive Metal
Band:
Martin Schuster (g) (v)
David Vanek (g)
Adam Palma (b)
Filip Kittnar (d)
Track Listing:
1. Into the Swirl
2. Unrecognized Entity
3. Inner Consciousness
4. Essence of Existence
5. Freedom of Mentality
6. Wretchlessness
7. Parasite
8. Twisted Priorities
9. On the Path to Oblivion
10. Inner Consciousness (demo)
11. Freedom of Mentality (demo)
12. Wretchlessness (demo)
13. Twisted Priorities (demo)
Label: Divebomb Records
Website: www.mindwork.cz
Hardrock Haven rating: 8/10