Wretched | Son of Perdition
by Jonna Ambur
– Senior Photojournalist —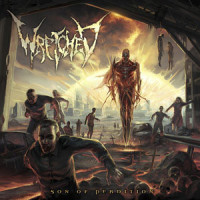 In a word … SICK!! Wretched is back with their third studio album since 2009 titled Son of Perdition. The melodic death metal band from North Carolina has put out yet another quality production under the Victory Records label.
Many don't usually consider death metal to be made up of accomplished musicians that have a flawless orchestrated sound. Those people are about to be proved wrong. The first song on the album, "Oblivion," sets the stage for the band's return to the scene. The songs that follow continue to be a testament to Funderburk and Wieczorek's passion to keep the band at the front of the pack. Well-placed interludes, crunching tones, guttural vocals and a real "punch you in the throat" kind of energy.
There are several songs on this album that support themselves in instruments alone. While this may normally make the listener shy away and skip ahead, these guys have found a way to keep you listening from beginning to end. They've added violin, piano and melodies that can make you sway with the rhythm one minute and barrel to the nearest mosh pit in the next.
The band has gone through several lineup changes since 2010, but the talent remains. Wretched is currently touring to support their album Son of Perdition.
Genre: Deathcore, technical death metal, death metal, melodic death metal
Band:
Adam Cody – Vocals
Steven Funderburk – Guitar
John Vail – Guitar
Andrew Grevey – Bass
Marshall Wieczorek – Drums
Track List:
1. Oblivion
2. Imminent Growth
3. At The First Sign of Rust
4. Dilated Disappointment
5. Repeat … The End is Near
6. Dreams of Chaos
7. The Stellar Sunset of Evolution Pt. 1 (The Silence)
8. The Stellar Sunset of Evolution Pt. 2 (The Rise)
9. The Stellar Sunset of Evolution Pt. 3 (The Son of Perdition)
10. Karma Accomplished
11. Decimation
Discography:
The Exodus of Autonomy (2009)
Beyond the Gate (2010)
Son of Perdition (2012)
Label: Victory Records
Web: http://www.facebook.com/wretchednc / https://twitter.com/WretchedNC
Hardrock Haven rating: 8/10