Aerosmith | Rock for the Rising Sun
by Steve Patrick
– Columnist —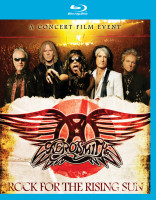 America's greatest rock 'n' roll band has finally released their first Blu-ray entitled Rock for the Rising Sun and it was well worth the wait. The film, directed by Casey Patrick Tebo, chronicles Aerosmith's most recent tour of Japan in late 2011 following the earthquake and tsunami that left caused a meltdown at the Fukushima nuclear plant. This moment in time is also of particular interest to Aerosmith fans since this chronicles the Asian leg of the Back on the Road Tour that immediately followed a very public near-implosion of the band due to internal conflicts and Steven Tyler's decision to put Aerosmith on hold to host American Idol.
Rock for the Rising Son's packaging describes that, "disregarding warnings to stay away, Aerosmith, along with its management and crew decided there was only one way to help the people of Japan. With their music." That might sound a tad overdramatic, and it is, but it is undeniable that Aerosmith and their Japanese fans have an unrivaled connection. The true star of this Blu-ray is the close relationship between this legendary rock group and the people of Japan.
The concert portion of the film kicks off with "Draw the Line" and does not let up from there. Aerosmith is documented here playing at such a high level that it truly highlights how ridiculous it was to have a band with this much undeniable chemistry almost break up 40 years into their career. In watching Rock for the Rising Sun, it is immediately apparent that the rabid Japanese fans have not faltered since the band's rise to fame in the 70s. "Livin' on the Edge," along with its socially conscious message, was cleverly juxtaposed with footage of the guys visiting the Hiroshima Peace Memorial Museum.
One immediate criticism is the prominence of background vocalist and keyboard player Russ Irwin's vocals. Basically, Tyler cannot consistently hit all the high notes that he used to so Irwin is there as a buffer. This is all well and good, but Irwin seems particularly noticeable and overpowers Tyler on several occasions. Another pet peeve present is that some songs are interrupted by video vignettes or interviews. Granted, this is not as big of a deal on Rock for the Rising Son as other music DVDs (remember Black Sabbath's Reunion?). Still, the interruptions occur frequently enough to become an irritant. You would think if they were going to cut something out it would have been the less-than-stellar Joey Kramer drum solo.
For example, the first half of "Hangman Jury" was chopped off to show Tyler, Joe Perry, and Irwin rehearsing their harmony parts in the dressing room. Bassist Tom Hamilton expressed concern about the band not practicing the song prior to the show, but Tyler dismissed his apprehensions. This kind of behind-the-scenes footage is interesting, but shouldn't come at the expense of viewing a rarely played Aero-gem in its entirety.
A huge plus for this live release is the setlist. Aerosmith's first Blu-ray does not disappoint die-hard fans by mining older classics like "Movin' Out", "No More No More", "Rats in the Cellar", and "S.O.S. (Too Bad)". Tired tunes like "Same Old Song and Dance" and "Dream On" are absent from this release which might cause casual fans to cry foul, but this reviewer certainly appreciated the fresh set. Besides, new live versions of "Sweet Emotion" and "Walk this Way" are present on this release so that should satisfy anyone interested in just the hits.
The picture quality on Rock for the Rising Sun is impeccable. Aside from annoying bursts of Irwin's background vocals and the presence of incomplete songs, the audio mix sounds spot on. Here's hoping that the next Aerosmith live release includes an option to play the concert portion only. This Blu-ray/DVD release is highly recommended and is an essential addition for any self-respecting fan of Aerosmith's music.
Genre: Rock, Blues Rock
Band:
Steven Tyler – Vocals
Joe Perry – Guitar
Brad Whitford – Guitar
Tom Hamilton – Bass
Joey Kramer – Drums
Track Listing:
1. Draw the Line
2. Love in an Elevator
3. Livin' on the Edge
4. Hangman Jury
5. No More No More
6. Mama Kin
7. Monkey on My Back
8. Toys in the Attic
9. Listen to the Thunder (Drum solo)
10. Sweet Emotion
11. Boogie Man
12. Rats in the Cellar
13. Movin' Out
14. Last Child
15. S.O.S. (Too Bad)
16. Walk this Way
17. Train Kept A Rollin' (Credits)
Bonus Tracks:
Lick and a Promise
One Way Street
Label: Eagle Rock Entertainment
Web: www.aerosmith.com
Hardrock Haven rating: 8/10