Defy Tolerance | Stop the Bleeding
by Mark Allen
– Senior Columnist —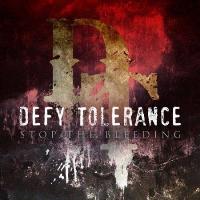 Defy Tolerance occupy that middle ground between rock and metal. Heavier than Hinder, but not quite as gruffly bruising as, say, Five Finger Death Punch. This album—their debut—is bulging with muscle yet sports plenty of commercial hooks, but never exudes the need to suck up to the mainstream. Not the easiest fence to straddle, but these guys pull it off with aplomb.
Powerful vocals, powerful guitars, powerful drums, powerful riffs, powerful rhythms, powerful production … sensing a pattern here? Weak is not a word in the band's vocabulary. Not even in the songwriting department; most of the tracks are strong, hefty, heavy-rocking numbers packed with beef and brawn and a kind of gritty kick-butt catchiness.
Speaking of power, check out the drums. They really pack a wallop, like a sonic fist right in the guts. No surprise, really, when you consider the album was produced by Fifth Angel drummer Ken Mary who naturally has a fondness for the skins and ensures they thunder through the mix. And not only does he expertly engineer the drum sound, he infuses everything else with the appropriate crunch demanded of the modern heavy rock genre.
"Ball and Chain" hits hard and immediately dispels any notion of fluffiness by getting right down to the business of headbanging. This is followed by "Empty Bottle," which fires off a slew of testosterone-fueled guitar riffs on its way to a commercial chorus. These two songs combine for an excellent one-two punch to kick off the album.
But the prize for best song goes to "Get You Nowhere" thanks to a vicious groove, full-throttle intensity, a buzz-saw guitar solo, and some serious aggression that is more in your face than an 800 lb. gorilla you just kicked in the cajones. Almost as good is "Until I'm Done" which sounds like a Nickelback song pumped up on steroids. (Yes, that's a compliment … silence, you Nickelback naysayers!) The song is infectiously catchy and features some razor-sharp vocal hooks to accompany an ear-worm chorus.
All in all, it's an impressive showing for these Arizona-based first-timers. The band incorporates an amalgam of influences—everything from Alter Bridge to Soundgarden to Staind to Shinedown—to create a thick, semi-melodic post-grunge sound that ensures they will defy the odds and be more than a one-and-done band. Let's face it, some indie acts are so bad that after just one listen you want to run home and stuff cotton in your ears to stop the bleeding … but Defy Tolerance is not one of those bands.
Genre: Modern Hard Rock, Metal
Band:
Freddy Kilo (lead vocals, guitars)
Brian Miller (guitars, vocals)
Donny Rosko (bass, vocals)
Garin Wolfe (drums, percussion)
Track Listing
1. Ball and Chain
2. Empty Bottle
3. Epic Failure
4. Get You Nowhere
5. Live For Today
6. No Complaints
7. Suffocate
8. Time and Money
9. Until I'm Done
10. Zombiefied
Label: Able Records
Webpage: www.defytolerance.com
Hardrock Haven rating: 8/10