House of Shakira | Pay to Play
by Jenn Carbaugh
– Columnist —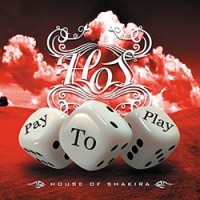 Swedish rockers, House of Shakira will release their album Pay to Play on Sept. 23 on CD. On Oct. 7 the album will be available through digital outlets. This is the second album with lead singer Andreas Novak. It is supposed to be their best album by far, and it certainly does not disappoint.
The band chose MelodicRock Records because they wanted to be a priority. This album is sure to bring the deserved attention for the band as well as the label. House of Shakira is not new by any means. With 22 years of history, the band has released six studio albums. They are thought of as one of Sweden's best known musicians.
The trends have rock have been a rough journey for many artists who have been around as long as House of Shakira, but they have survived. The album begins with the title track, "Pay to Play," which sets the tone. It is energetic but still classic. The sound of a bottle popping and the background noise of the restaurant set the mood for what this album wants to do. The band belts out that they are still here and they aren't leaving rock and roll.
There is a call to action feeling of each track. Most of the songs are upbeat and fun, and that makes you want to bang your head and tap your foot. "Draw the Line" has very good riffs and such an anthem-like sound with the combination of the members singing the lyrics. "Dog Eat Dog" is another amazing track that makes you instantly want to sing along. The riff catches your attention, and then, the song continues to build to keep your appeal. The "hey, hey, hey, hey" within the lyrics keep the buoyant sound alive by making you want to thrust a fist into the air as you sing along.
"Talk of the Town" starts out with a higher pitch of voices singing, and there is an initial riff that gets more and more intense as the song plays on. The voices lose the higher pitch and the attitude of the song sets in. It continues to give the album the attraction that has been expected by this expert band.
Overall, each song does the album justice. There is not a song that doesn't disappoint the classic rock roots or the new sounds you hear today. There is something enjoyable on this album for everyone. The sound is right, the instruments provide the right amount of balance, and the lyrics are amusing and fit well in combination. This is definitely a recommended album.
Genre: Melodic Hard Rock
Band:
Andreas Novak – vocals
Mats Hallstensson – guitar, vocals
Anders Lundstrom – guitar
Basse Blyberg – bass, vocals
Martin Larsson – drums
Track Listing:
01. Pay to Play
02. Bending the Law
03. All You Want
04. When The Cats Away
05. Dopamine Junkie
06. Draw The Line
07. Dog Eat Dog
08. Give Me More
09. Tried and True
10. Talk Of The Town
11. Two Things
12. Same Old Story
Label: MelodicRock Records
Website: http://www.houseofshakira.com/
Hardrock Haven rating: 8/10