by Justin Gaines
– Senior Columnist/News Editor —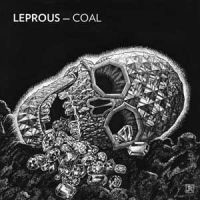 After delivering one of the absolute best progressive metal albums of the decade with 2011's Bilateral, it's safe to say that expectations were very high for Leprous's follow-up effort. The Norwegian band, who also double as former Emperor frontman Ihsahn's backing band, have, with each of their previous studio albums, taken the term "progressive" to heart, challenging both the genre and its fans. With their latest masterpiece, titled Coal, they continue that progression.
One of the (many) things that stood out about Bilateral is that for all its technicality it was surprisingly accessible from the very first listen. That's not the case with Coal. It has a fair share of melodic elements, but this isn't an album that grabs you right away. You have to work a little to really get Coal, and that's OK, because it's an album that is more than worth the effort. This is an ideal "headphones album," where you need to filter out external noise and experience just how nuanced and powerful this music is.
Coal still has that core Leprous sound that seems to be part post-black metal Norwegian prog (think Winds, Age of Silence) and part King Crimson gone Pain of Salvation. It's very much a metal album, but with a high degree of technicality and a rich atmospheric side. As with Bilateral, the harsh vocals are dialed back in favor of more clean singing.
There are only eight songs on Coal (nine if you count the bonus track "Bury"), and they're all brilliant, so it's almost pointless to call out highlights, but there are a couple of tracks that deserve special mention. The nearly 10-minute "Echo" does an amazing job pulling together all of the album's disparate elements into one song, and the intense and emotional "Chronic" would have been right at home on Pain of Salvation's Remedy Lane. It's album closer "Contaminate Me" that is Coal's real standout track. Besides having a tremendous energy and intensity, it also features guest vocals from Ihsahn.
While perhaps not the complete triumph Bilateral was, Coal is still far and away the best progressive metal album released this year. At this point, and after three consecutive albums of this caliber, Leprous really should be spoken of in the same league as Dream Theater and Opeth. They've certainly raised the bar for the rest of the progressive metal genre. If you're a fan of progressive music, you owe it to yourself to experience this band. You will neither forget nor regret it.
Genre: Progressive Metal
Band:
Einar Solberg (v) (k)
Tor Oddmund Suhrke (g) (v)
Oystein Landsverk (g) (v)
Tobias Ornes Andersen (d)
Rein T. Blomquist (b)
Track Listing:
1. Foe
2. Chronic
3. Coal
4. The Cloak
5. The Valley
6. Salt
7. Echo
8. Contaminate Me
9. Bury
Label: InsideOut Records
Website: www.leprous.net
Hardrock Haven rating: 9/10