Michael Lee Firkins | Yep
by Alissa Ordabai
– Columnist —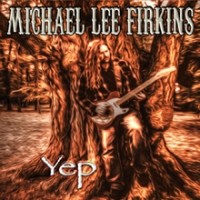 Starting his career in the early 90s as one of Mike Varney's protégés, Michael Lee Firkins nevertheless managed to avoid participating in the chops game of the time. Composition, insight, and expression of spontaneous feeling always meant more to him than self-assertion through fretboard acrobatics. His 1990 self-titled Shrapnel debut showed precisely that, as well as his interest in roots music – from blues to bluegrass. The following 20 years were full of ups and downs, expansion of influences, excursions into jazz, admiration from fellow musicians, but also prolonged career down time spent away from the public eye.
After an 8-year gap between albums, Firkins finally released Black Light Sonatas in 2007 – an intense record full of beautifully composed, rousing instrumentals. The offering in hand is Firkins's first CD since Black Light Sonatas and it lays out a simpler vision – a return to the basic fundamentals, something all rock virtuosos begin with in their youth. Opener "Golden Oldie Jam" – a mid-tempo classic rock throwback – spells out the idea behind the entire release: "Golden oldie was the real deal, golden oldie teach you everything." The bold, proud strut of blues-drenched guitar leads, their non-linear conversation with the keyboards, the elegant slide moves, and a hint of psychedelia set the retro vibe for the rest of the album.
What follows are more blues and classic rock workouts: unhurried, tasteful, and orthodox. "Cajun Boogie" emulates ZZ Top at their swaggering peak, "Take Me Back" aims at the Black Crowes terrain, and soon the entire album begins to sound like a tamer version of those two bands. Firkins as a unique player suddenly disappears behind the conventionality of these this inoffensive, congenial, and largely unmemorable Americana. Closing track "The Cane", however, justifies the entire album as a prelude to this final revelation. Primal and haunting, it becomes half-invocation, half-lament with Firkins's processed vocals magnetizing the spellbound soundscape. Here he breathes life into blues with such lofty, overwhelming power, you instantly know this final shot into stratosphere was worth waiting for.
Genre: Blues, Rock
Personnel:
Michael Lee Firkins – guitar, vocals
Matt Abts – drums
Andy Hess – bass
Chuck Leavell – keyboards
Michael Bland – drums
Track Listing:
1. Golden Oldie Jam
2. Cajun Boogie
3. No More Angry Man
4. Standing Ovation
5. Long Day
6. Wearin' Black
7. Out of Season
8. Take Me Back
9. Last Call
10. No More Angry Man (Part 2)
11. The Cane
Label: Magnatude Records
Online: www.michaelleefirkins.com
Hardrock Haven rating: 6.5/10