Slammer | The Work of Idle Hands
by Justin Gaines
– Senior Columnist/News Editor —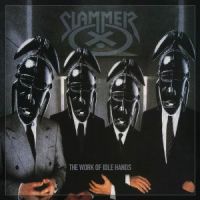 Originally released in 1989, The Work of Idle Hands was the debut album from UK thrash metal band Slammer. The band was a lesser known player in a lesser known scene, but their music was certainly up to the standards of their American and German counterparts.
Slammer didn't exactly rewrite the thrash metal playbook with The Work of Idle Hands. This is essentially a straightforward thrash metal album that owes a lot to the early Metallica and especially Testament sounds. Blistering riffs and punishing (slamming, even) rhythms power these songs with barely a pause for breath, and Paul Tunniclife's raspy, barked vocals that bring to mind a fully-charged James Hetfield or Chuck Billy. Yes, Slammer serves up what is more or less textbook thrash metal, but it is executed very, very well and there's really no way not to get into this album once songs like "Razor's Edge" and "No Excuses" get their hooks in you.
Like most second-tier thrash bands, Slammer just wasn't unique enough to survive when thrash fell out of favor in the 1990s. They released one more album (1991's Nightmare Scenario) before disbanding. As enjoyable as it is, The Work of Idle Hands is not going to make many "essential" lists. It is, however, an album that fans of the early Metallica and Testament albums are going to love, and it goes without saying that UK thrash metal aficionados are going to want to own it, especially now that it has been reissued.
Edition Notes: Divebomb's 2013 reissue of The Work of Idle Hands puts this long out of print (and ridiculously expensive) album back into fans' hands, and while it does not feature the kind of bonus material that most Divebomb releases have, it has been expertly remastered by Jamie King, who did such fine work with the Deathwish and DAM reissues. The liner notes also include an essay as well as vintage photos and press clippings. It's a well put-together reissue, as expected.
Genre: Thrash Metal
Band:
Milo Zivanovic (g)
Andy Gacic (d)
Russell Burton (b)
Paul Tunnicliffe (v)
Enzo Ennecchini (g)
Track Listing:
1. Tenement Zone
2. If Thine Eye
3. Johnny's Home
4. Razor's Edge
5. Hellbound
6. Hunt You Down
7. God's Prey
8. Fight or Fall
9. No Excuses
10. Born For War
Label: Divebomb Records
Hardrock Haven rating: 8/10