Larry Carlton and Robben Ford | Unplugged The Paris Concert
by Alissa Ordabai
– Senior Columnist —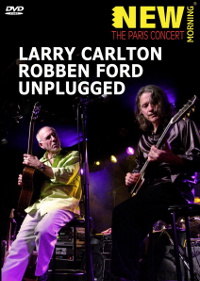 This polished combination of smooth jazz, pop, rock, and fusion should be at the top of this year's compulsory viewing of each guitar nerd on the planet. And I'm talking about rockers especially, because if you're a rock fan looking for a first taste of jazz guitar, then this is it – an as painless an introduction as they come, presented in an easy-to-swallow, ever so slightly sweetened form.
Session-man extraordinaire, guitar guru, and four-times Grammy laureate Larry Carlton – as expected — dominates the proceedings. Robben Ford's displays of fantastic guitar chops are less extensive and less flashy, but show just how much a rhythm player of his caliber can influence a soloist. Mind you, Ford is a world-renowned lead player on his own right with a 45-year career under his belt and collaborations with artists ranging from Miles Davies to Joni Mitchell.
As this release follows an earlier pairing of Carlton and Ford recorded in 2007 and titled Live in Tokyo, no wonder the two guitarists operate on exactly the same wavelength. An acoustic setting gives the show a more down-to-earth feel than its predecessor, but don't be fooled by the simplicity of the set-up. Despite the apparent austerity of the two guitars, the bass, and the drums, this 100-minute performance serves up erudite musicianship managing to avoid predictability almost at every turn.
The set list runs through Carlton's oldies, an odd chestnut, and an occasional Ford number, but also finds place for fresh material. Standout "Cold Gold" is a new song by Carlton – a blues-inspired tune with a dash of lyrical jazz. Carlton's first-class technique and his exquisite choice of notes turn a straightforward composition into a gem. Letting just enough disquiet seep through the restrained delivery he keeps the affair from getting too heavy while adding depth to please the philosophers and the poets among us.
"Rio Samba" – by contrast – diverts the set into a bubbly Latin direction. Ford's rhythm parts galvanize the proceedings while Carlton's impro criss-corsses narratives without losing razor-sharp focus. A musically intense story told with few well-chosen notes becomes a lesson in putting approachability before the ego. Not to mention the moments where Carlton lets the rhythm section jump to the fore, varying the texture of the band's sound with subtle aplomb.
But it isn't all about A-grade chops, clever comping, or making jazz accessible to any kind of audience while keeping the buffs on their toes. When "That Road" begins its bouncy harmonic roundabout you instantly appreciate the band's elastic, finely sprung rhythm machinery. Where it really knocks you off your feet is when Carlton starts improvising over the seemingly simple chord progression, on the spot coming up with one faultless theme after another. The union of big ideas and nuanced detail rarely sounds so compelling, just like a pairing of a jazz whiz and a blues romantic.
Genre: Jazz, Rock, Pop, Fusion
Personnel:
Larry Carlton – guitar
Robben Ford – guitar, vocals
Fifi Chayeb – bass
Claude Salmieri – drums
Track listing:
1. NM Blues 08
2. That Road
3. Monty
4. Cold Gold
5. Hand in Hand with the Blues
6. Amen AC
7. I Put a Spell on You
8. Rio Samba
Label: 335 Records
Online: www.larrycarlton.com; www.335Records.com; www.Mr335.tv
Hardrock Haven rating: 9/10