Dario Lorina | Dario Lorina
by Alissa Ordabai
– Senior Columnist —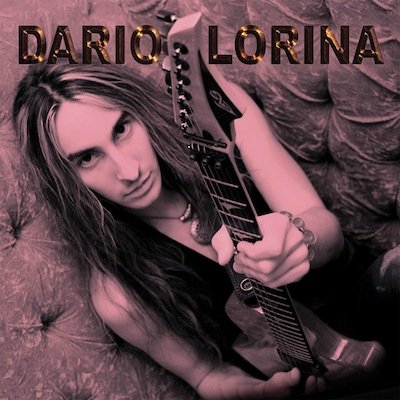 Dario Lorina has been turning heads on the guitar aficionado circuits for years. First as an awkward, but technically brilliant teenage virtuoso with amateur clips on YouTube, then (at 16) as the late Jani Lane's underage axeman, and now as the guitarist in Lizzy Borden. Not to mention the furore of 2009 with the fake Guitar World cover showing Lorina standing next to Ozzy and the ensuing rumor he was about to become Zakk's replacement.
Back-fence talk and the peculiarity of Lorina's age aside, here we have his first ever solo album – a gutsy, fiery affair that instantly jumps out at you in contrast to piles of instrumental guitar dross released each year. Shrapnel's trademark shoestring production with its tinny, child's-music-box guitar tone still can't blot out what becomes so instantly apparent – Lorina's virtuosic chops and his songwriting smarts.
A lot of tracks here move like songs – complete with verses, choruses, and middle eights, only delivered by the guitar. "My Heroine" is one such gem – a rollicking payoff to early Skid Row, full of 3-dimensional sense of drama, range, and pure feeling. "Pipe Dreams" rolls out another song-like showstopper where one raunchy, hooky line flies after another. You soon forget that songs usually need singers because this one has the guitar shaping all the contrasts, layering the texture, and telling some very cool stories.
But when the swagger of exemplary high tech guitar cools off, Lorina moves into less tightly-wound headspaces. On "Silhouettes" he sweeps a soaring Satriani-esque melody across the poetic soundscape while still retaining the muscular punch of his own temperament.
Closing track "Amor Odium" alternates the glow-in-the-dark slow motion with neckbreak fretboard marathons. The turn-on, however, is not this contrast but having an audacious cut-and-shuffle with rhythm – something few shredders know how to do. Now that this record is out, Lizzy Borden will have to watch out for others wanting to snap up their lucky find. This time for real.
Genre: Rock, Metal, Instrumental
Track Listing:
1. Demon Rum
2. Pipe Dreams
3. My Heroine
4. Villains
5. Silhouettes
6. Feels Good
7. House of the Rising Sun
8. Alive
9. Ambrosia
10. Words Unspoken
11. Sacksong
12. Revolutions
13. Amor Odium
Label: Shrapnel Records
Online: www.dariolorina.com
Hardrock Haven rating: 8/10