Exporting Doom Metal Pays Off
by Jenn Carbaugh
– Columnist —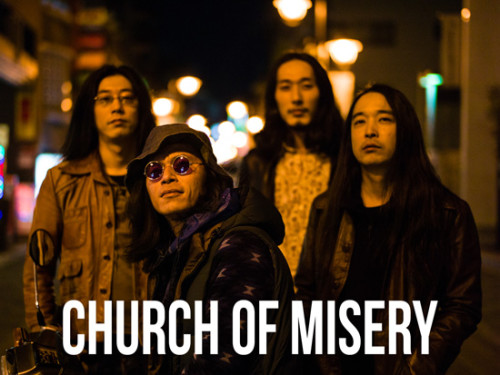 This month kicks off a North American tour for Japan's top doom metal band, Church of Misery. On select dates, the tour will feature bands Bloody Hammers, Against the Grain, Saviours, and Wizard Rifle as well. Bloody Hammers and Against the Grain will play with Church of Misery from November 8th to the 23rd of the month. Wizard Rifles will play from November 24th to December 6th. Saviours will join the bands on November 27th and play until December 6th.
There was a delay in the beginning because of the government shutdown and some behind the scenes issues. They will be traveling all over the states for this tour. A good show and location to check out will be at the Otto Bar in Baltimore, Maryland. Church of Misery will be headlining. Bloody Hammers and Against the Grain will also be featured.
Church of Misery is a four piece that consists of Hideki Fukasawa, Tatsu Mikami, Junji Narita, and Ikuma Kawabe. Tatsu Mikami, bass player, founded the band back in 1995. Their latest album, Thy Kingdom Scum, was written and recorded by all four members.
The album showcases Hideki Fukasawa's valiant return to vocals, and he does not disappoint. They bring back old school doom metal, unlike the below par 2013 "reunion" of Black Sabbath. It has been actually said that Church of Misery has the best sound since Black Sabbath's early work, and Thy Kingdom Scum is being called one of the top doom releases of the year. Being constantly compared of the legends of doom metal truly illustrates that this band has what it takes, and they will be putting that on display during this tour.
Band:
Tatsu Mikami – bass
Junji Narita – drums
Hideki Fukasawa – vocals and synthesizers
Ikuma Kawabe – guitar
Label: Metal Blade Records
Website: http://www.churchofmisery.net