Flying Colors | Live in Europe
by Alissa Ordabai
– Senior Columnist —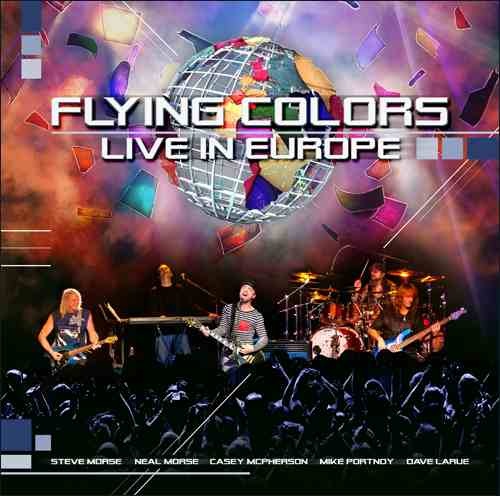 Live footage of this recently hatched supergroup performing in Tilburg, Holland has been shot with unpretentious good taste. And it transparently shows that Steve Morse remains this outfit's main draw. His jazz fusion erudition may be somewhat too refined for today's prog-rock, but if there's one player who knows how to adapt, it's Morse.
Careful not to grandstand, he and his old Dixie Dregs collaborator Dave LaRue subtly raise prog's game without sounding donnish. Their new bandmates Mike Portnoy, Texan singer and songwriter Casey McPherson, and Spock's Beard keyboardist Neal Morse all contribute with sincere love for the genre. But it's the guitarist and the bassist who give the outfit its sound and its depth.
Opener "Blue Ocean" showcases the band in all its glory: the uplifting keys, the throbbing beat of the bass, Steve Morse's pinpoint-target fire shots, and the vocals by McPherson. A kind of voice that has enough detachment and affection mixed together for the buffs to instantly nod and say, "Prog at its coolest."
A pop hook puts the icing on the cake and tells the Dutch crowd they are in for some first-class entertainment. Cleverly spaced instrumentation shapes the easy-on-the-ear sound, and Morse's spare leads (as opposed to his exuberant displays when he performs with G3) make the solos instantly accessible.
On standout "The Storm" he turns the plain-dealing pop-rock tune into such far-going, (yet economically played) head trip, you feel instantly transported. Not swept away, but gently shown how spare magic of a whiz player can carry away even the most straightforward song.
And while the band's originals all have a unified prog-meets-fusion-meets-indie feel to them, when time comes for each member's back catalogue, things begin to take unexpected turns. Dixie Dregs' "Odyssey" gives a chance for each player to solo, but it's LaRue who makes a killing with his drifting, reality-bending extrapolations. On Dream Theatre's "Repentance" you initially mistake the intro for Pink Floyd's "Set the Controls for the Heart of the Sun", but then roll out of it and go along with the tune's easy flow.
The second half of the show relaxes its pace, and low-pressure balladry begins to replace leading-edge excursions. After all, despite all of its intelligence, this trip is about entertainment, not experimentation. And the crowd here loves every song of the show – from vigorous fusion, to languid prog, to even more languid ballads. The lucky formula of combining non-obsessive good time with sparingly dosed revelations continues to work wonders.
Genre: Prog Rock, Indie Rock, Jazz Fusion
Personnel:
Steve Morse – guitar
Casey McPherson – vocals, guitar
Neal Morse – keyboards, vocals
Dave LaRue – bass
Mike Portnoy – drums, vocals
Track Listing:
1. Blue Ocean
2. Shoulda Coulda Woulda
3. Love is What I'm Waiting for
4. Can't Find a Way
5. The Storm
6. Odyssey
7. Forever in a Daze
8. Hallelujah
9. Better than Walking Away
10. Kayla
11. Fool in My Heart
12. Spur of the Moment
13. Repentance
14. June
15. All Falls Down
16. Everything Changes
17. Infinite
Label: Mascot
Online: www.flyingcolorsmusic.com
Hardrock Haven rating: 7/10