Ghost | If You Have Ghost
by Justin Gaines
– Senior Columnist/News Editor —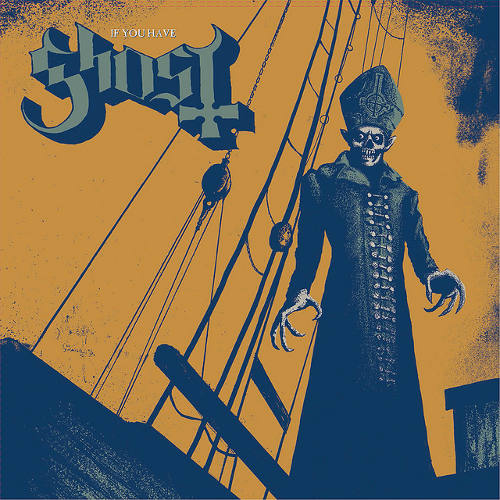 Apparently not content with simply having released 2013's best album (Infestissumam), Papa Emeritus II and his band of Nameless Ghouls is back with another unholy offering. Alongside producer Dave Grohl (yes, that Dave Grohl, who also contributes drums and guitar on a couple of songs here), the Swedish metal band has delivered an EP titled If You Have Ghost, consisting mainly of cover songs. There are only five songs on the EP, so let's break them down individually:
1. If You Have Ghosts – This is a cover of the Roky Erickson song, and it's handled brilliantly. It's as haunting as it is catchy, and is easily the best song on this EP.
2. I'm a Marionette – This ABBA cover was previously available on the deluxe edition of Infestissumam, so chances are you've already heard it. Once again they bring out the song's hidden creepiness.
3. Crucified – It seems odd that a Satan-obsessed Swedish metal band is covering an Army of Lovers song, but they definitely make it work. The raspy vocals on the verses are a stark and very effective contrast to the almost sweetly sung chorus.
4. Waiting For the Night – Ghost turns in a fairly doomy version of this Depeche Mode classic. It's plodding and spooky, and surprisingly faithful to the original.
5. Secular Haze (live) – This one seems like a throwaway track. It's not a particularly great recording, and it breaks the theme of the EP. Including the studio version of "Here Comes the Sun" (from the Japanese import version of Opus Eponymous) would have made much more sense.
Unless you're a serious Ghost disciple and collector, cherry-picking the three new songs in MP3 format may be the best way to go here, especially since the physical CD release of If You Have Ghost comes in a cheap, disc-scratching cardboard sleeve. Whatever method you choose, the three new cover songs are well worth hearing. "If You Have Ghosts" alone is worth the price of admission, and will quickly join the ranks of favorite Ghost recordings.
Genre: Metal
Label: Republic
Website: www.ghost-official.com
Hardrock Haven rating: 8.75/10