Jessica Prouty Band | Set Me Free
by Mark Allen
– Senior Columnist —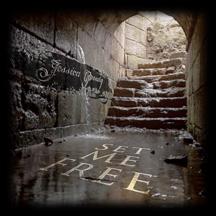 If you're a fan of female-fronted modern hard rock, then hearing a band described as "Halestorm meets Evanescence" probably makes you drool like an insane asylum inmate jacked up on Thorazine. That's the sound the Jessica Prouty Band (JPB) is striving for and while they pull it off on a couple of songs, other times they just miss the mark. Not by much, mind you, and it is that oh-so-closeness that fosters frustration. You can hear the potential, but it too often remains unfulfilled.
The good news is that the reason for the near-miss is starkly identifiable and easily remedied on future efforts, and that reason is the lack of powerful hooks in the choruses. The guitars, the drums, the vocals … all the components are exactly what you expect in the modern rock genre, but the choruses need sharpening. Not much—JPB falls short by inches, not miles—but an extra pass or two during the songwriting process to give the hooks more snap would serve them well.
Since JPB are a young, college-age band, they have plenty of time to grow and hone their craft. Well, "grow" and "hone" may not be the right words, because there are a couple of songs on this album that prove JPB already know how to write a good tune. They just need to expand and apply that skill to all the songs rather than just a few of them. With just a smidgen of songwriting improvement, the band has what it takes to gain mainstream attention.
Prouty's vocals are such a treasure that for them to go unheralded would be tragic. Her young voice has the dynamic ability to flow effortlessly from sultry crooning to sassy attitude to spitfire venom. She is one of those rare female singers that can do badass rocker chick and yet could probably perform perfectly as a pop princess if that was her preference. Lucky for us, she chose to go the rock 'n' roll route. No disrespect to the other members, but without Prouty as the centerpiece, they would be just another indie modern rock band trying to make a go of it. But with her out in front, they are an indie modern rock band that will not remain indie much longer.
The album kicks off with "Devastate," a crunchy rocker with fast drumming, chopping guitars, and a few symphonic elements in the background to give it a slightly different vibe. But the chorus is just too simple to hold your attention. Much better is the first single "Set Me Free," which is commercial to the core and could easily appear on any Halestorm release. Saving the best for last, the closing track "Tired" is the kind of heavy-hitting, Paramore-style hard rocker that could gain some traction on Sirius/XM's Octane channel. With its beefy sound and catchy chorus, this is a damn good song that makes you wish there were more of them. Kind of like a snack-size bag of M&Ms.
This is one of those albums that you can either pout about the shortcomings or enjoy the highlights … and you'll probably do both. The band made a valiant effort to knock it out of the park, but they have to settle for a double. But they certainly did not strike out. And next time they step up to the plate, the modern hard rock world better watch out, because it's only a matter of time before talent of this caliber finds the zone and power-drives a homerun right out of the stands.
Genre: Modern Hard Rock
Band:
Jessica Prouty (lead vocals, bass)
Cody Nilson (guitar, vocals)
Aaron Shuman (guitar, vocals)
Cam Pelkey (drums)
Andy Corvino (keyboards)
Brian Maes (keyboards)
Tracks:
1. Light This Place Up
2. Set Me Free
3. I Know
4. Sometimes I Wonder
5. Devastate
6. Stay
7. Tired
8. Take a Walk With Me
Label: Independent
Webpage: www.facebook.com/JessicaProutyBand
Hardrock Haven rating: 6.8/10