Joanne Shaw Taylor | Songs from the Road
by Alissa Ordabai
– Senior Columnist —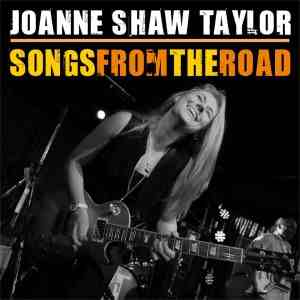 Welcome to the new era of blues guitar. Since Sister Rosetta Tharpe we haven't had a female guitarist of Joanne Shaw Taylor's spirit and drive, and since SRV we haven't had a blues player with such a gift for improvisation. As the saying goes, you have to see it to believe it. Hence the DVD which is packaged along with the CD into Joanne Shaw Taylor's new release recorded live earlier this year at London's Borderline club.
The video footage proves what fans have known for years: Taylor is a virtuoso of spectacular finesse and inner fire. While her previous three studio albums knocked you out with spellbinding songwriting and note-perfect chops, her knack for improvisation has long deserved a live release. Expansive, wild, and at times non-linear, live her solos become guitar-fest marathons, but always keep your attention hooked with a perfect sense of form and melodic edge.
Guitar nerds would pick out influences ranging from Jimmy Page to Paul Kossoff, and would be partially right. The broad sweeps of emotion draw from the same well as Kossoff, natural nd just like Page, Taylor elaborates her solos to far-flung vistas without losing the sense of melody. But above all she has her own voice which you can't mistake for anyone else. Her register-expanding extrapolations never get ponderous, and the meter stays clockwork solid – shifting or complex rhythmic patterns don't come into her game.
But you also have to see this DVD to believe that beauty can coincide with A-grade musicianship. On opener "Soul Station" you can feel high-voltage energy beaming from the stage in sync with the pulsating groove, and a spontaneous, radiantly beautiful young woman moving with natural audacity of a player who is having a blast. How such huge temperament can project with such easy poise remains a mystery.
Taylor's singing voice sounds live just as organic as her playing – not an icing on the cake the way it goes with many white blues players, but a crucial part of her act. It can go from gravelly lows to trebly, nasal twang, and from throttled blues cries to heart-breaking moments delivered in whisper.
Standout "Jealousy" showcases this range when the hauntingly soft intro goes on to reach for emotionally intense depth. Janis Joplin comes to mind – her style revived but not exploited. But juxtapositions of the earthy and the ethereal have always been the trademark dichotomy of Taylor's style. When on "Diamonds in the Dirt" she alternates the delicately subtle chorus with the gritty verses, the contrast boosts both in a way most writers have forgotten how to pull off these days.
Upbeat, eerie, fun, fragile, luscious, heart-broken and heart-breaking, these songs take you through all the places you thought blues as a genre had already shown you before. Only this time our very young contemporary tears down the cobwebs from the heritage with such force, you have no choice but to give in to the life-affirming energy of tradition energized by fierce imagination.
Genre: Blues, Blues-rock, Soul
Personnel:
Joanne Shaw Taylor – guitar, vocals
Jool's Grudgings – keyboards
Joseph Veloz – bass, background vocals
Tony Dicello – drums
Track Listing:
CD
1. Soul Station
2. Tied & Bound
3. Beautifully Broken
4. Watch 'Em Burn
5. Diamonds in the Dirt
6. Manic Depression
7. Jealousy
8. Kiss the Ground Goodbye
9. Just Another Word
10. Band Introductions
11. Jump That Train
12. Going Home
DVD
1. Soul Station
2. Tied & Bound
3. Beautifully Broken
4. Watch 'Em Burn
5. Diamonds in the Dirt
6. You Should Stay and I Should Go
7. Almost Always Never
8. Jealousy
9. Kiss the Ground Goodbye
10. Just Another Word
11. Let It Burn
12. Time Has Come
13. Jump That Train
14. Lose Myself to Loving You
15. Going Home
Online: www.joanneshawtaylor.com
Label: Ruf Records
Hardrock Haven rating: 10/10