The Prog Collective | Epilogue
by Joe Mis
– Senior Columnist —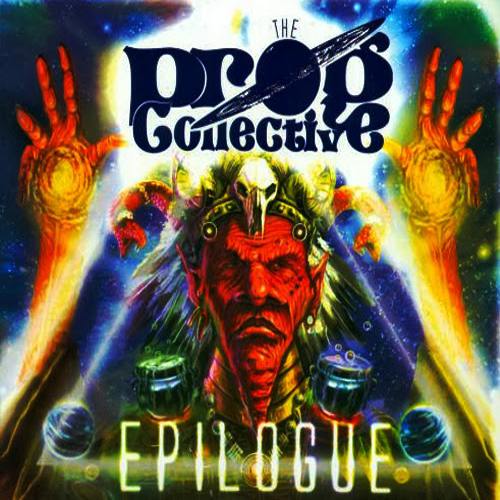 Once again, Billy Sherwood of Yes fame has assembled a group of some of the biggest names in progressive rock under the moniker of The Prog Collective. The contributors include John Wetton (Asia), Alan Parsons, Chris Squire (Yes), Rick Wakeman, Nik Turner (Hawkwind), Mel Collins (King Crimson), and surprisingly William Shatner (yes, Captain Kirk himself!). Unfortunately, unlike Sherwood's last project – The Fusion Syndicate – Epilogue, the second release by The Prog Collective, falls a bit short.
Epilogue is a simply a collection of very traditional progressive rock tunes that will definitely appeal to hard core progressive rock fans, however there is not too much here to captivate the casual fan. The music is delivered very well on a technical level, but there is just something missing – perhaps because the various artists sent their parts in for mixing and assembly, thus never finding the synergy of a live group performance. The songs for the most part are all the same in tempo, and there is little variation in performing style no matter who is playing on the track – in fact, most of the songs are even similar in duration. The song by song uniformity is so severe that if one does not look at the song credits it would be difficult to believe that there are seven different vocalists credited. Only Sonja Kristina (female voice) and William Shatner (spoken word) stand out, but Shatner's voice is so buried in the music that he is for the most part unintelligible.
There are a number of bright spots that shine that make the experience better. Steve Hillage's superb guitar solos on "Are We To Believe?" are simply amazing. In fact, this is quite probably the strongest tune on the album thanks to the great contributions from all performers (Moulding, Collins, and Wakeman). "Adding Fuel To The Fire" is another solid song thanks to the spiraling guitars of Steve Morse, intricate keys by Jordan Rudess, and strong vocals by Fee Waybill. Despite a good vocal performance by Sonja Kristina, "Tomorrow Becomes Today" never seems to find its feet. "Shining Diamonds" is another solid track thanks to the energetic bass of Chris Squire and intricate rhythms on guitar and keys provided by Steve Stevens. "Just Another Day" is an ambitious track that blends prog rock with atmospheric acoustic passages, and does it well thanks to the fine work of Gary Green (guitars) and Tony Kaye (keyboards).
Overall, The Prog Collective's Epilogue is a decent album and a pleasant listen, but it proves that the whole is not always greater than the sum of the parts. Epilogue pales in comparison to Sherwood's prior project, The Fusion Syndicate. If you like the idea of traditional (perhaps even formulaic) prog rock delivered by an all-star lineup, by all means pick it up. If you are looking for something that pushes the boundaries of the genre, look elsewhere.
Genre: Progressive Rock
Band (track by track):
Billy Sherwood – drums, bass, backing vocals, guitars, synths on all tracks, with guests:
1 – Colin Moulding (vocals), Mel Collins (sax, flute), Steve Hillage (guitars), Rick Wakeman (moog)
2 – John Wetton (vocals), Derek Sherinian (synth solos), John Wesley (guitars)
3 – Fee Waybill (vocals), Jordan Rudess (keyboard solos), Steve Morse (guitars)
4 – Sonja Kristina (vocals), Peter Banks (guitars), Larry Fast (keyboard solos)
5 – Alan Parsons (vocals), Chris Squire (bass), Patrick Moraz (keyboards), Steve Stevens (guitars, Hammond)
6 – Geoff Downes (keyboard solos), Nik Turner (sax, flute)
7 – Roye Albrighton (vocals), Allan Holdsworth (guitar solos)
8 – Gary Green (guitars), Tony Kaye (keyboards)
9 – William Shatner (spoken word), Jim Cuomo (drums)
Track Listing:
1. Are We To Believe?
2. What Can Be Done?
3. Adding Fuel To The Fire
4. Tomorrow Becomes Today
5. Shining Diamonds
6. In Our Time
7. Memory Tracks
8. Just Another Day
9. Epilogue
Label: Cleopatra Records
Hardrock Haven rating: 6/10 (add a point for die-hard traditional prog rock fans)