by Joe Mis
– Senior Columnist —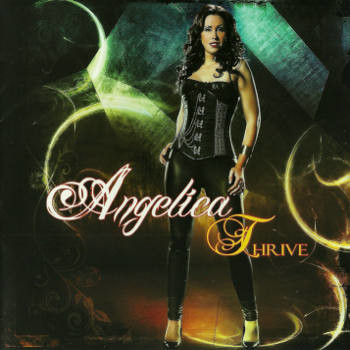 Thrive is the debut solo album from Angelica Rylin, the lead vocalist of the Swedish rockers The Murder of My Sweet. Following a dream, Angelica has put together a strong melodic rock release that should have broad appeal, especially to fans of Heart, Robin Beck, and Issa. Produced by her bandmate (and drummer) Daniel Flores, Thrive is a very good, radio friendly release that showcases another side of Angelica's vocal talents.
Angelica has pretty much ensured the success of Thrive by working with a number of industry veterans. She not only presents songs that she's written, but also had some help from melodic rock mainstays Harry Hess, Robert Sall, Alessandro Del Vecchio and Anders Wigelius, among others. The primary musicians in the band are guitarist Per Berquist (Smash Into Pieces), drummer / keyboardist / producer Daniel Flores (Hubi Meisel, Faro, Philip Bardowell), and bassist Johan Niemann (Evergrey, Therion). Guest solos by Magnus Karlsson (Primal Fear), Jesper Stromblad (In Flames, The Resistance), Matt Guillory (James LaBrie), and ), Mats Lindfors (John Norum, Talisman) only serve to make a good thing better.
"Breaking My Heart" is a titanic opener that brings together great vocals, a toe-tap inducing rhythm line, strong guitars and well done synths. The big hooks reach out and grab, and Angelica's vocals sail over it all, paying homage to many great female rockers but not imitating them. "I Am Strong" is a real AOR rocker with a melodic chorus and an upbeat tone delivered by energetic guitars and keys. "To Your Rescue" is another up-tempo rocker that seems a blend of prog styling with 80's pop-rock, and features big guitar riffs, slick keys, and a sing-along chorus. "Can't Stop Love" is a ballad that truly allows the softer subtleties of Angelica's voice to shine as they glide above a delicate keyboard line. "Nothing Else You Can BreaK" is another song with a late 80s/early 90s feel, but modernized in presentation. Chugging guitars backed by keys open "Riding Out The Storm" before it becomes a solid and upbeat rocker that would be at home on any rock radio station – just a well done tune.
"Rain On My Parade" rolls in a number of commercial rock elements, and is a catchy modern rocker with everything from gritty guitars to layered keys to electronically distorted vocals, delivered with swagger and attitude. Angelica turns everything down quite a bit on the wonderful ballad "Losers In Paradise," once again bringing the softer elements of her voice into play and delivering an outstanding performance. "You Will Never Win" brings the energy back up with a very slick, commercial feel to it, while the kicky "This Kiss Is Just For You" is just dripping with modern rock elements in the vein of Chasing Violets or Issa. "I'm Not Waiting" bounces back and forth between low and high energy thanks to both expressive vocals and great interplay between soft keys and punchy guitar/bass/drums. Angelica wraps the album with "Take Me To Your Heart," a real singer's song with an amazing chorus that sounds "right" on so many levels.
Overall, Thrive is a crisp and bright melodic rock album that maintains a strong sense of melody from start to finish. Angelica's voice is superb whether she is singing in a hushed whisper or under full power (with no screams, screeches, or growls). Her delivery is passionate and emotional, and obviously her performance comes from the heart. She's done a great job of blending her own skills with those of the other songwriters, thus producing a solidly cohesive work. Her fellow musicians all deliver at the top of their games, and Thrive is a joy to the ears that hear. This is not another Murder of My Sweet album, but a truly independent work that should appeal to anyone into melodic rock. Recommended!
Genre: Modern Melodic Metal
Band:
Angelica Rylin (vocals)
Per Berquist (guitar)
Daniel Flores (drums, keyboards, backing vocals)
Johan Niemann (bass)
Guests: Magnus Karlsson (guitar solo on 1), Jesper Stromblad (guitar solo on 2), Mats Lindfors (guitar solos on 4, 5), Matt Guillory (keyboards on 12)
Track Listing:
1. Breaking My Heart
2. I Am Strong
3. To Your Rescue
4. Can't Stop Love
5. Nothing Else You Can Break
6. Riding Out The Storm
7. Rain On My Parade
8. Losers In Paradise
9. You Will Never Win
10. This Kiss Is Just For You
11. I'm Not Waiting
12. Take Me To Your Heart
13. Breaking My Heart (Videoclip)
Label: Frontiers Records
Website: http://frontiers.it/album/5179/, http://www.facebook.com/angelica.rylin
Hardrock Haven rating: 9/10