by John Kindred
– Publisher —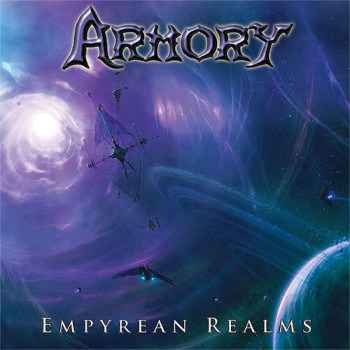 The power metal band Armory was founded in 2001 by Chad Fisher (guitars) and Joe Kurland (guitars/drums). The band's first album The Dawn of Enlightenment was released in 2004 and subsequently re-recorded and re-released in 2007. After six years, the band has returned with its sophomore follow-up titled Empyrean Realms.
Armory always has been driven to deliver music that harnesses the '80s heavy metal and power metal genres. In turn, Armory adds melodic elements and creates epic high-energy musical opuses. The band's lineup includes vocalist Adam Kurland; guitarists Joe Kurland and Chad Fisher, who bring the double-axe attack; keyboardist Peter Rutcho; and the rhythm section features bassist Thomas Preziosi and drummer Tom Vieira.
Empyrean Realms includes nine songs and is a 50-minute musical foray. The album art was created by Gary Tonge, who is known for his celestial and space art. The album has been a long time in coming; over the course of a decade, the band has been honing its craft. Years spent studying its art from song structures, chord progressions and melody has matured the band into a tight cohesive group of musicians.
The music is fast, epic, has tendency to push on the progressive side and is melodic. With only nine songs, the band makes up for it with almost an hour of music. Thundering drums and bass build the sound bed for layered guitars, vocals and keyboard melodies. Adam Kurland's vocals have the right tonality and timbre for this style of music. His brother, Joe, and Chad Fisher provide plenty of rhythmic crunch and blazing soloing. Again, the songs are epic in nature, with the shortest track clocking in at 4 minutes and the longest at the 7-minute mark.
The album contains one instrumental, "Horologium," which allows the guitars to deliver the majority of the melody. It lands in the middle of the CD, allowing for a break in the vocal action. Empyrean Realms is a spirited romp with the power metal realm. The band's keen sense of melody and progressive tendencies allow for a dynamic musical experience. The music finds perfect balances among each instrument, and the production is flawless. The album begs to be listened to from the first song "Eternal Mind" to the last "Quest for the Fleece."
Highly recommended to power metal and heavy metal fans!
Genre: Power Metal
Band:
Adam Kurland: Vocals
Joe Kurland: Guitars, Drums
Chad Fisher: Guitars
Thomas Preziosi: Bass
Peter Rutcho: Keyboards
Tom Vieira: Live Drums
Track Listing:
1. Eternal Mind
2. Dreamstate
3. Beyond the Horizon
4. Reflection Divine
5. Horologium
6. Elements of Creation
7. Inner Sanctum
8. Fate Seeker
9. Quest for the Fleece
Label: Metavania Music
Online: http://www.armorymetal.com/ – https://www.facebook.com/armorymetal
Hardrock Haven rating: 9/10