Javelin | Fragments of the Inner Shadow
by Justin Gaines
– Senior Columnist/News Editor —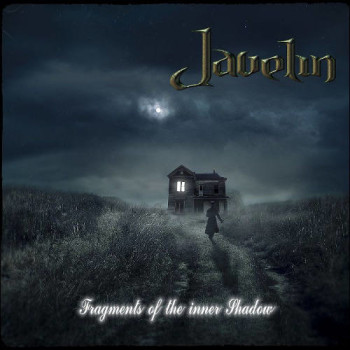 Fragments of the Inner Shadow is the full-length debut album from German progressive/power metal band Javelin, but unlike a lot of bands making their debut these days, this band has been around since 1982. Despite releasing a pair of EPs (1997's Seasons of Grey and 2009's Dark Broken Land), they're only now delivering a proper album.
You figure a band that's been kicking around since 1982 would sound very old school, and given their country it's fair to expect Javelin to sound like Accept or Running Wild. Instead, the band delivers a very strong blend of progressive and power metal that harkens back to the early 2000s glory days of the prog/power scene. They have driving, headbanging rhythms, killer twin lead guitar work, soaring powerful vocals, and while the album is melodic, it's got plenty of crunch and heaviness and a dark atmosphere overall. Think Brainstorm and Tad Morose (with maybe a shot of Icarus Witch and Twisted Tower Dire) rather than the upbeat, sing-songy stuff the German power metal scene is so well known for.
Fragments of the Inner Shadow is a very strong album overall, and one that works best as a larger whole. Still, there are some songs that stand out, like the heavy, intense "The Arrival" and the hard charging "Falling," with it's shout-along chorus that sounds like it's straight off a Brainstorm album. The slower song (not quite a ballad, but close) "Healing" gives the album a dramatic, epic flair that works very well. Javelin closes out the album with re-recordings of the title tracks from their two EP releases, which gives you an idea of how they've progressed.
It's fitting that Javelin's debut arrives on the Pure Underground label, because Fragments of the Inner Shadow is the very definition of an underground gem. This is a really nicely executed slab of progressive/power metal that's on par with much of what the "name" bands in the scene have released lately. If you like your power metal on the heavy side, Javelin is a band that is well worth discovering. Hopefully their follow-up won't be quite as long in the making.
Genre: Power Metal, Progressive Metal
Band:
Andreas Waldow (g)
Carsten Maiwald (g)
Carsten Hille (v)
Volker Scholz (b)
Sascha Sauer (d)
Track Listing:
Help Us
The Arrival
The Cenotaph
Birth of a Plague
Down
Healing
Falling
Lie To Me
Captured Under Sand
Now That I Know
Closer to the Pain
Dark Broken Land
Season of Grey
Label: Pure Steel, Pure Underground
Website: www.facebook.com/JavelinMetal

Hardrock Haven rating: 8.5/10