Red Line Chemistry | Tug of War
by Mark Allen
– Senior Columnist —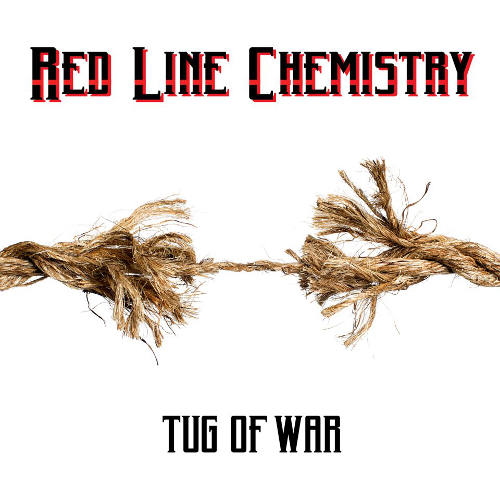 This album is a game-changer. Not so much for the modern hard rock genre itself, but definitely for Red Line Chemistry themselves. They have hit their stride and ascended to a fresh plateau of complexity and maturity. It fails to attain perfection, but it has moments when it strikes close, and those pinnacles pull you in more than the mundane moments repel.
Red Line Chemistry excel at grafting the grunge style of the '90s with the current modern rock aesthetic. There exists a strong Alice In Chains vibe due to the riff selections and song construction but it is filtered through the modern aggression of groups like Disturbed or Trapt. One thing is for certain, you won't mistake these guys for Nickelback or Hinder. Those bands may be catchier, infused as they are with commercial hooks, but Red Line Chemistry possess greater depth.
Part of the success of this album can be attributed to producer Nick Raskulincecz, who has worked with Alice In Chains, Deftones, and Stone Sour. He understands how to properly engineer a modern rock album for that rich, powerful sound. Acquiring a studio magician of this caliber is just one of the multiple things the band did right in the creation of this record.
The tracks all bear the Red Line Chemistry stamp, but by experimenting with lower, beefier guitar tones the band has injected the songs with an extra dose of sonic ferocity. "Sucker Punch" is a prime example of this, every bit as cool and mean and badass as the title insinuates. The tune thrusts forward with more hot-blooded aggression than a bull with a bear trap biting on its balls and is guaranteed to get your head banging.
Where the band falters is on the slower songs, which seem out of place with a dragging, sludgy, progressive feel. "Fighter," "Eyes to the Sky," and "Through the Haze" all fall prey to this. The band seems to be striving for epic, but mostly winds up with "eh." Credit where credit is due, however, Brett Ditgen sings the songs masterfully. Too bad the songs just aren't that great.
Thankfully, other songs are. "Tug of War" is a heavy-hitter practically begging for airplay on Sirius/XM's Octane. "Paralyzed" is a punchy, hook-laced rocker that sounds like Disturbed with more melodic vocals. "Unspoken" is the crown jewel, one of the best modern rock songs of 2013 thanks to a blistering hard edge, a killer chorus, and strong lyrics that defy pointlessness in favor of something pointed: "Pull down your halo / Shining in everyone's eyes / while the devil is running around / spreading your lies / How do you sleep at night?" You should not think about getting this song … you should just get it.
Red Line Chemistry are poised to explode. These guys have something to say and unlike many of today's bands, what they have to say is actually worth hearing. When the modern rock wars are over, Red Line Chemistry may not emerge the ultimate victor, but neither will they be numbered among the fallen.
Genre: Modern Hard Rock
Band:
Tom Brown (bass, vocals)
Mike Mazzarese (percussion)
Dave Fylen (guitar, vocals)
Andrew Breit (guitar, keyboards, vocals)
Brett Ditgen (lead vocals)
Track Listing
1. Black Roses
2. Tug of War
3. Paralyzed
4. The Fighter
5. Quiet Hurricane
6. Eyes to the Sky
7. Unspoken
8. Through the Haze
9. Sucker Punch
10. One More Day
11. Fall of Man
12. What Do You Want From Me
Label: Bulldog Productions, SKH Music
Webpage: www.redlinechemistry.com
Hardrock Haven rating: 7.5/10