Adrian Galysh | Tone Poet
by Justin Gaines
– Senior Columnist —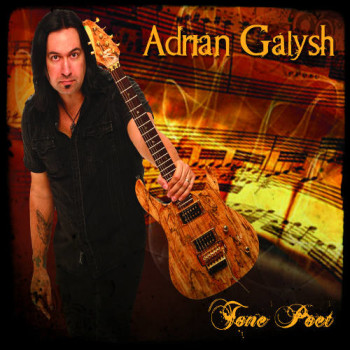 Guitarist and composer Adrian Galysh returned in 2013 with a new solo album, his fourth overall, titled Tone Poet. This time around Galysh is joined by vocalist Mark Boals (ex-Yngwie Malmsteen, ex-Royal Hunt, Ring of Fire), bassist Phillip Bynoe (Ring of Fire) and drummer Todd Sucherman (Styx).
Tone Poet starts on a tranquil, almost new age note with the instrumental "Resurrects," but as soon as the rocking "Brick by Brick" kicks in you know the album is going to be anything but easy listening. The album has an interesting mix of hard rock, more melodic rock songs and atmospheric instrumentals with orchestral, grooving, progressive and even world music elements. Galysh is a fantastic player, and he manages to demonstrate his skills without getting too self-indulgent or overly technical. You don't even have to be a "guitar guy" to get into this one, you just have to have an appreciation for rock music that's on the creative side.
Obviously Mark Boals's involvement is going to be the main draw for some fans, and his performance does not disappoint. It's amazing how much more effective his range and control have become over the years, and he puts both to good use on these songs. There are times where his unique voice seems at odds with what Galysh is doing on guitar, but for the most part these two talents fit quite well together. Boals sings on four songs, after which the album shifts to full-on instrumental mode for the second half of the album. Strategically it might have made more sense to spread out the tracks with vocals so there wasn't such a stark divide between the two halves of the album, but that's a minor complaint, given the fact that both halves are equally enjoyable.
It's hard to make a precise recommendation here. Obviously Galysh's existing fans will want to check out Tone Poet, as should fans of Mark Boals – specifically his Codex material. Beyond that it gets a little trickier. If your typical playlist includes melodic rock, symphonic prog and the occasional soundtrack or world music album, you'll probably be in heaven when you hear Tone Poet. Keep an open mind and you'll be surprised how much you enjoy this album.
Genre: Melodic Rock, Instrumental Rock
Band:
Adrian Galysh (g) (b) (k)
Mark Boals (v)
Charlie Waymire (d)
Philip Bynoe (b)
Todd Sucherman (d)
Track Listing:
Resurrects
Brick by Brick
When You Fall
Flying
Movie in My Mind
Luminae
La Dolce Vita
Tone Poet
Epoch
Echoes of El Greco
Ur of the Chaldees
Spring (the Return)
Website: www.adriangalysh.com
Hardrock Haven rating: 8.5/10