Bloodgood | Dangerously Close
by Mark Allen
– Senior Columnist —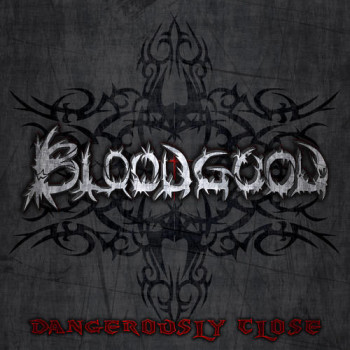 If love for '80s Christian metal flows through your veins, then you no doubt greeted news of Bloodgood's resurrection with happiness, enthusiasm, and perhaps even a grateful prayer to the God they serve. But surely trepidation existed as well, as you wondered if the band could still deliver the goods after disappearing for two decades. Stryper, Deliverance, Sacred Warrior … all made quality comebacks in 2013. Would Bloodgood be the band to stumble and disappoint their devotees?
Should kids be allowed to play with dynamite and blowtorches?
Dangerously Close has something to offer every Bloodgood fan, whether you're hungry for the heavy metal of their early days, hoping for the hard rock of their mid-career output, or craving the calculated commercialism of All Stand Together, their final (until now) studio release. The band seems cognizant of the fact that different folks enjoy different aspects of their sound and strove to satisfy them all. Granted, trying to please all the people all the time is usually as impossible as enjoying a colonoscopy when the doctor forgets to lube the scope. But when it comes to creating an album that pleases all their loyal followers, Bloodgood may have just succeeded.
Bloodgood's sound has always differed from most of their contemporaries. Less pop than Petra, less Sunset Strip than Stryper, less technical than Tourniquet … and nothing has changed. The band still cranks out classic metal riffs crossed with hard rock chops, Les Carlsen still sings with one of the most distinctive rasps in the history of holy metal, and founder Michael Bloodgood continues to write blatant gospel lyrics with the crucifixion as a common theme. (C'mon, the band call themselves "metal missionaries" … did anyone think they were going to go the vague/watered-down lyrical route?)
Musically, this is (mostly) classic Bloodgood. Heavy at times, melodic at others, but almost always high quality. There are a few tracks that miss the mark, but the bulk of the album is exactly what patient Bloodgood fans hoped it would be. For those with a fondness for ballads, there are two here: "Father Father" and "Crush Me." The former is about as forgettable as an absentee daddy, but the latter is sweeter than an angel's kiss, if slightly out of place amidst all the heaviness.
Most singers exhibit evidence of vocal deterioration after such a sustained absence from the scene, but Les Carlsen sounds exactly the same as he did when wailing on Detonation back in '87. He proves it on a slew of rocking tracks, including "Bread Alone" which brings all sorts of crunchy hooks to the game along with some blistering guitar work, pounding drums, slick harmonies, and a razor-sharp chorus. The oddball track on the album is "In the Trenches." Not only is it the heaviest song, but it's also the most modern, with down-tuned guitars and distorted vocals that might catch unsuspecting listeners off guard. It comes equipped with a wicked riff and serious head-banging potential and while it doesn't really sound like Bloodgood, it still sounds good.
Bottom line, this is a good album. Not perfect … but expecting perfection from a band that has been incognito for twenty-three years would be like expecting a retired stunt motorcyclist to break the world's record on his very first comeback jump. The band is very good—at times nearly great—and dancing that dangerously close to greatness is good enough.
Genre: Christian Metal
Band:
Les Carlsen (vocals)
Michael Bloodgood (bass, background vocals)
Paul Jackson (guitar, background vocals)
Oz Fox (guitar, background vocals)
Kevin Whisler (drums)
Track Listing
1. Lamb of God
2. Run Away
3. Child on Earth
4. I Will
5. Bread Alone
6. Pray
7. I Can Hold On
8. Run the Race
9. Father Father
10. Man in the Middle
11. Crush Me
12. In the Trenches
13. The Word
Label: B. Goode Records
Webpage: www.bloodgoodband.com
Hardrock Haven rating: 8/10