Ministers of Anger | Renaissance
by Justin Gaines
– News Editor/Senior Columnist —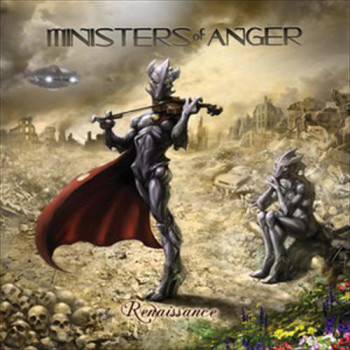 The fifth and final band in the first wave of Divebomb Records' new Bootcamp series, which focuses on overlooked and forgotten demos, both new and old, is Los Angeles-based progressive thrashers Ministers of Anger. The band, which was active in the late '80s to very early '90s, is probably best known as the early project of guitarist/vocalist David Clemmons, who would go on to form Damn the Machine. Clemmons was joined by drummer Dave McClain, who went on to play for Sacred Reich and Machine Head.
Ministers of Anger had a powerful and compelling sound that even now refuses easy classification. They were definitely a thrash band, and a heavy one at that. Early on though, they had a more melodic side that was along the lines of Armored Saint and maybe Flotsam and Jetsam. By the time their 1990 demo Renaissance was released, Ministers of Anger had put a strong emphasis on their highly technical, almost progressive metal side. This is where the band's most impressive output was. They didn't quite reach full-on Watchtower prog, but they definitely were heading in that direction, with intricate guitar work and complex rhythms augmenting the still heavy thrash assault.
Divebomb's Bootcamp reissue of Renaissance includes the original 1990 Renaissance demo – previously only available on cassette – as well as six additional previously unreleased demos from 1988 to 1991. It is limited to 500 units and features new cover artwork, vintage photos, lyrics and a new interview with David Clemmons. The audio has been remastered to the best extent possible given the source material.
Renaissance is another high quality reissue of vintage heavy metal, and it closes out the first wave of the Bootcamp series with a bang. It goes without saying that fans of Damn the Machine need to grab a copy of this Ministers of Anger collection. Beyond that, if you're a fan of the classic US thrash metal sound, particularly more technical bands like Anacrusis, Inner Sanctum and Confessor, Ministers of Anger is a band you'll soon wish you had discovered 20+ years ago.
Genre: Thrash Metal
Band:
Dave Clemmons (v) (g) (b)
Dave McClain (d)
Track Listing:
Homeland
The Great Escape
Fields of the Dead
Money Man
Virgin to the World
Peasants
Savior on the Stage
Majority Prevails
Guns of War
Sticks & Stones
The Governor
We the People
Wake to the Flames
Man vs. Man
Label: Divebomb Records
Website: http://tribunalrecords.bandcamp.com/album/renaissance
Hardrock Haven rating: 8.5/10