by Joe Mis
– Senior Columnist —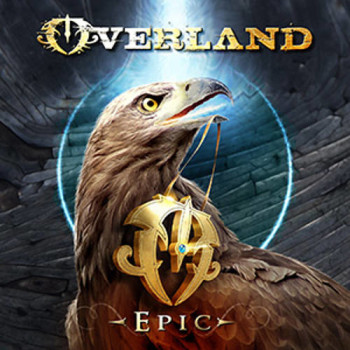 "Radio, Radio … Play that song … Take me back to when I was young" appears in the first track of Overland's new release, Epic – and it captures the spirit of the album perfectly. Considering the musical longevity of Steve Overland, that is a HUGE look backwards.
Steve Overland's musical roots spread all the way back to the late 1970s. He was the voice of Wildfire, FM, The Ladder, Shadowman, as well as the eponymous Overland. Epic is Steve's third solo effort, following in the footsteps of Break Away (2008) and Diamond Dealer (2009). Overland brings some well-respected talent from the AOR-commercial rock world to Epic – Christian Wolff (Rob Moratti) on guitars and keys, Larry Antonino on bass, and Jay Schellen on drums. Epic boasts a strong supporting cast as well with Mike Slamer (Streets, Seventh Key) handling additional guitars, bass, keyboards, production and arrangement, Billy Greer (Kansas, Seventh Key) and Billy Trudel (The City, Dirty White Boy) singing backup, and Fredrik Bergh (Street Talk, Bloodbound) lending additional keys on two tracks.
Overland's voice is as strong as every, and his innate sense of melody is apparent. Steve does an excellent job with his harmonies, and he tailors his delivery to the tone of the song. His crystal clear delivery is only enhanced by the superb work of Christian Wolff, who allows his guitars and keys to carry the tunes without dominating the rest of the band. Larry Antonino and Jay Schellen are a great bass and drum team – each stepping up when needed, and keeping clockwork time.
"If Looks Could Kill" and "Down Comes The Night" are arguably the strongest tracks on the release, filled with all the goodies that make a song truly radio friendly. Steve's vocals are spot on, and the rest of the band seems enthusiastic and energetic – Christian Wolff in particular. Almost all of the tracks are potential big arena rockers – "Radio, Radio" and "Stranded" are prime examples, and will carry most listeners into toe-tapping bliss. "Rags To Riches" is a little grittier, bringing a hint of blues rock (and a really great guitar solo) to the sound, but "Liberate My Heart" and "If Your Heart's Not In It" are little on the cheesy side lyrically. "Rock Me" brings heavy keys and powerful bass to the forefront, and "Wild" is a shiny and bright vocal masterpiece.
Overland's Epic is a very competent AOR-commercial rock album. Well written tracks and flawless delivery make it easy on the ears, and Steve Overland proves himself to still be at the top of his melodic rock game. The band is in top form as well, dishing out big guitar hooks, epic keys and driving bass & drum lines. Slamer's production work suits the music perfectly and brings out all the strengths of the band. If there is one flaw it is the fact that the music, although brilliantly executed, is a bit on the formulaic side (as commercial rock sometimes tends to be). Rather than pushing the boundaries of the genre, Overland settles comfortably in known territory – with the end result being an occasional predictability.
Well delivered and slickly packaged, Overland's Epic is recommended for fans of commercial rock – safe and familiar.
Genre: Classic Rock
Band:
Steve Overland (vocals)
Christian Wolff (guitars, keyboards)
Larry Antonino (bass)
Jay Schellen (drums)
Guests: Mike Slamer – (additional guitars, bass, keyboards), Billy Greer (backing vocals), Billy Trudel (backing vocals), Fredrik Bergh (additional keys on tracks 5 & 6)
Track Listing:
1. Radio Radio
2. If Looks Could Kill
3. Stranded
4. Rags To Riches
5. Liberate My Heart
6. Down Comes The Night
7. If Your Heart's Not In It
8. Rock Me
9. So This Is Love
10. Wild
11. The End Of The Road
Label: Escape Music
Website: http://www.overland-shadowman.com/overland_home.htm, http://www.escape-music.com/
Hardrock Haven rating: 7.5/10