Persuader | The Fiction Maze
by Jenn Carbaugh
– Columnist —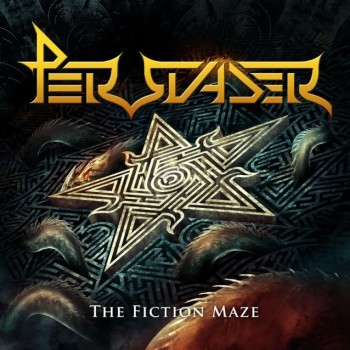 The Fiction Maze is the fourth studio album for Swedish power metal band, Persuader. This album is thought to be a combination of their other creations but with a more aggressive side. It has been over seven years since the band last released a studio album. A bankruptcy of their former label had a lot to do with the band's hiatus, but now, they are back and hoping to return with a bit of a heavier side similar to older thrash metal.
All of the expected elements of power metal can be heard on tracks like "One Lifetime" and "War." "The Fiction Maze" has a great lead in and truly builds into a song that does the title justice. The winding instruments, with the combination of the varying types of vocals, create a maze atmosphere. This song is not the only one to have a moderately paced beginning that eventually quickens. "Son of Sodom" is similar but can be considered one of the slower songs.
With the variation of speed, lyrics, and vocals, this album is not a let down by any means. It does bleed together at times, so it is nothing that drums up tons of excitement. The raw vocals that Carlsson lends to the songs create an assertive attitude, which gives some personality to the album. There is just a constant humdrum feel that makes this album sound a lot like other power metal and trash metal albums out there.
There is a lot of repetition, or at least, it sounds that way. There are predictable and similar melodies all throughout the album. The Fiction Maze does seem to bare more of a likeness to older thrash metal, which is a positive aspect. Overall, the album flows well, and nothing sounds out of place. It is just nothing that sparks a lot of reaction, so it depends on an overall eagerness to hear the band's return.
Genre: Power Metal, Thrash Metal
Band:
Jens Carlsson – vocals
Emil Norberg – lead guitar
Daniel Sundborn – rhythm guitar
Fredrik Hedstrom – bass
Efraim Juntunen – drums
Track Listing:
01. One Lifetime
02. War
03. The Fiction Maze
04. Deep in the Dark
05. InSect
06. Son of Sodom
07. Sent to the Grave
08. Heathen
09. Dagon Rising
10. Worlds Collide
11. Falling Faster
Label: Inner Wound Records
Website: https://www.facebook.com/pages/Persuader/50270729045
Hardrock Haven Rating: 6/10