Rhapsody of Fire | Dark Wings of Steel
by Ron Higgins
– Columnist —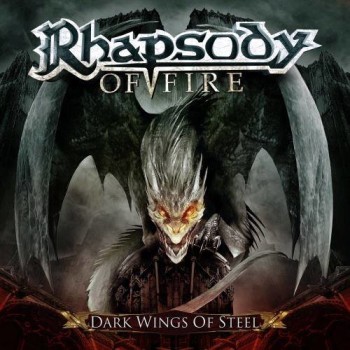 After 2013's live release Live – From Chaos to Eternity, Rhapsody of Fire are back with their eagerly awaited new studio album, Dark Wings of Steel. Adding to the anticipation of this new release is the curiosity surrounding how they would proceed without one of their primary composers, Neo-classical guitarist extraordinaire Luca Turilli. Turilli split off and formed his own band, Luca Turilli's Rhapsody, releasing their first album in 2012, Ascending to Infinity, which was very well received. Will this release be equally well received? Time will tell.
Formed in the 1990's, Rhapsody of Fire released their first album, Legendary Tales, in 1997. Back then, they were simply known as Rhapsody, but due to legal reasons they had to change their name after their sixth studio album, 2004's Symphony of Enchanted Lands II – The Dark Secret. Starting with their debut release, they blended a mix of classic power metal with baroque/classical elements by adding choirs and orchestras to pounding drums and shredding guitars to become the preeminent Italian symphonic power metal band.
This new album kicks off with "Vis Divina", a nice little minute and a half track that starts with a chanting choir before Alex Staropoli's powerful keyboards explode onto the scene. It means "Divine Strength" and lets listeners know immediately that this will be another symphonic release true to the Rhapsody name. For this release they employed the talents of a real choir and orchestra in place of computerized replicas making the overall sound more authentic and enjoyable. Following quickly on the heels of the opener is the first full-length song "Rising from Tragic Flames". It's classic symphonic power metal replete with blistering guitar work, double-bass drumming, soaring vocals and passionate keyboards.
The third track, "Angel of Light" is one of the album highlights, clocking in at over seven minutes. This song has everything you'd ever want in a symphonic power metal song, including interesting tempo changes and a combination of acoustic and electric guitars. If you only have $0.99 and can only download one track from this release, make it this one.
Other highlights include "Silver Lake of Tears", "Custode Di Pace", and the title track "Dark Wings of Steel". "Silver Lake of Tears" is one of the most up-tempo songs on offer this time around. It's a hard rocker but still melodic and features some impressive drumming and alternating guitar/keyboard soloing. "Custode Di Pace" or "Guardian of Peace" changes things up with a slow ballad sung entirely in their native Italian tongue. Providing an unexpected break in the obligatory head-banging, this mellow tune actually works quite nicely among this set of songs. As for "Dark Wings of Steel", as the second to last song on the album it's a bit oddly placed for a title track, but it's well worth the wait. It starts off with some impressive guitar riffing by De Micheli before Staropoli's keyboards take over and leads the listener through another classic Rhapsody of Fire auditory joy-ride.
Other tunes include "Tears of Pain" which is a typical-sounding power metal song, "Fly to Crystal Skies" which has some nice tempo changes and a great melody, "My Sacrifice" which features an acoustic guitar along with some atypical instruments like a flute, and "A Tale of Magic" which is another nice little melodic rocker with some more tasty guitar soloing.
Rhapsody of Fire's 10th full-length studio album wraps up with "Sad Mystic Moon." It's a little slower but has a nice rhythm section, a heavy chorus and some impressive guitar playing. Overall, it's a nice way to wrap up this solid release.
So after 11 tracks and over an hour of music the question remains, is this release as good as Luca Turilli's new version of Rhapsody? The definitive answer is… maybe. It really comes down to the preference of the listener. If you like Turilli's over-the-top neoclassical guitar gymnastics then you'll probably prefer his release better. However, if you're looking for less cinematic, standard power metal then you'll probably like this one. Either way, it's a worthy addition to the Rhapsody canon of work.
Genre Symphonic Power Metal
Band:
Alex Staropoli – keyboards
Fabio Lione – lead vocals
Alex Holzwarth – drums
Oliver Holzwarth – bass
Roby De Micheli – guitars
Track Listing:
1. Vis Divina
2. Rising from Tragic Flames
3. Angel of Light
4. Tears of Pain
5. Fly To Crystal Skies
6. My Sacrifice
7. Silver Lake of Tears
8. Custode Di Pace
9. A Tale of Magic
10. Dark Wings of Steel
11. Sad Mystic Moon
Label: AFM Records
Website: www.rhapsodyoffire.com
Hardrock Haven Rating: 8.7/10