Within Temptation | Hydra
by Joe Mis
– Senior Columnist —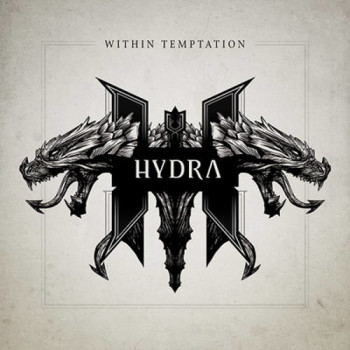 Hydra is the upcoming release from European symphonic rockers Within Temptation – and it very well could be their strongest release to date. Smoothly firing on all cylinders with the support of a number of well-known guests, Within Temptation is returning to their heavier, livelier roots and delivering solid symphonic rock-metal that is sure to please their fans the world over. Hydra is a pure symphonic rock-metal release, unlike the band's recent releases – a concept album (The Unforgiving) and a number of cover tune singles.
Formed back in 1996 by vocalist Sharon den Adel, guitarist Robert Westerholt, and bassist Jeroen van Veen, Within Temptation has produced consistently elegant and cinematic metal spanning a catalog of six studio albums, two live releases and numerous single and EPs, with styles ranging from Gothic to symphonic. Now joined by Ruud Jolie (guitar), Stefan Helleblad (guitar), Martijn Spierenburg (keyboards), and Mike Coolen (drums), Within Temptation has rolled all of their experiences and influences into a truly memorable album.
The album opens with "Let Us Burn," a tune rich with drama, a dense wall of guitars, and Sharon den Adel's emotional delivery over a massive vocal range. This lush tune harkens back to old Within Temptation and sets a high standard for the rest of the album. "Dangerous" is an upbeat rocker that features a strong vocal contribution from Howard Jones (ex-Killswitch Engage). The two singers work well together despite radically different styles as they dance above a keyboard and guitar rhythm line. "And We Run" is mostly a classic Within Temptation song, rife with choral vocals, delicate keys, and amazing guitars. However, it also features the appearance of rapper Xzibit – which actually works well for the song – but his dropping of an "F-bomb" in the middle of the song is jarring and very out of place for a band such as Within Temptation.
"Paradise" is quintessential Within Temptation, made even stronger by the appearance of the one and only Tarja Turunen (ex-Nightwish). Tarja's operatic contributions blend beautifully with Sharon's smooth delivery while the massive rhythm line drives the track to places seldom visited in symphonic metal. This one will have even the most jaded listener air-drumming or toe-tapping – and the guitar solo is short but amazingly sweet. "Edge Of The World" is a beautiful ballad that highlights the softer side of den Aden's vocals and the tight keyboard work of Martijn Spierenburg. "Silver Moonlight" is driving metal track with well controlled vocal growls contributed by Robert Westerholt, making this the heaviest (and perhaps darkest) track on the CD. The gritty guitars continue through the energetic and enigmatic "Covered By Roses," a track with perhaps Sharon's best vocal performance, a sing along chorus, and dynamic guitars.
"Dog Days" is another ballad with a sweeping vocal lane, tons of symphonic elements and enthusiastic delivery. The simple guitar line is surprisingly effective, as is the intricate teamwork demonstrated by bassist Jeroen Van Veen and drummer Mike Coolen. The only flaws here are the overly repetitive lyrics that make the song seem to drag at times. "Tell Me Why" cranks everything up to eleven, and mixes some strong 80s/90s influences with a pounding drum line, thick keys, and a blistering guitar break. The one "different" track is the closer, "The Whole World Is Watching." This is more of a straight up rocker featuring a superb vocal duet with Soul Asylum's Dave Pirner, and works so well on so many levels. Uplifting and jaw-droppingly good, the whole world should be watching Within Temptation.
Superbly mixed to bring out warmth and depth, Hydra is a treat for the ears on multiple levels. Not only is the overall sound excellent, but the solid engineering also serves to highlight the strength of den Adel's voice (and the voices of the guests) and displays the raw talents of the band to their fullest. Within Temptation's songwriting continues to evolve, and their performances are without flaw.
There are not enough superlatives to fully describe Hydra. The band is undoubtedly in top form, den Adel's voice is unmatched, and together they have released an album that will not only appeal to their own corps of fans, but one that will bring new blood into the fold. Complex at times and elegantly simple at others, Hydra is Within Temptation's best work by far. It is not a rehash of their old style – rather it is a strong evolutionary step that blends new elements with old, enhancing rather than changing the band's traditional sound.
Simply put, Within Temptation's Hydra is already a solid candidate for many a 2014 "Top Ten" list, and is without a doubt highly recommended!
Genre: Symphonic Rock, Metal
Band:
Sharon den Adel (vocals)
Robert Westerholt (guitar, vocals)
Ruud Jolie (guitar)
Stefan Helleblad (guitar)
Jeroen Van Veen (bass)
Martijn Spierenburg (keyboards)
Mike Coolen (drums)
Guest vocalists: Howard Jones (Killswitch Engage) – track 2, Xzibit – track 3, Tarja Turunen (Nightwish) – track 4, Dave Pirner (Soul Asylum) – track 10
Track Listing:
1. Let Us Burn
2. Dangerous
3. And We Run
4. Paradise
5. Edge of the World
6. Silver Moonlight
7. Covered By Roses
8. Dog Days
9. Tell Me Why
10. The Whole World Is Watching
Label: Nuclear Blast Records, Within Temptation Recordings
Website: http://www.within-temptation.com/
Hardrock Haven rating: 9/10