3 Years Hollow | The Cracks
by Mark Allen
– Senior Columnist —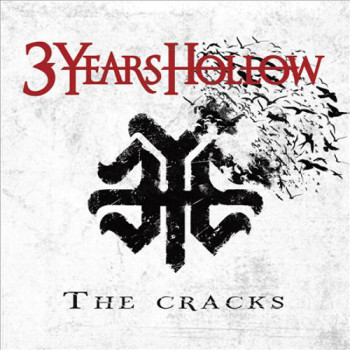 Stripping away some of the staleness from the mega-saturated modern rock genre is 3 Years Hollow, whose debut album drops on February 11, making it the perfect Valentine's Day gift for that special someone in your life. Who needs glittering diamonds and red roses when you can have crunchy guitars and pounding drums?
3 Years Hollow feature a heavy-edged but very melodic style, the sonic-boom sound that slots onto a Sirius/XM Octane Channel playlist as slickly as a condom on a cucumber in Sex Ed. In fact, their independent single "Remember" did exactly that, charging up the charts to clinch the coveted #1 crown. You don't get that far without being good.
If you're hoping for the pop-infused commercialism of Nickelback or Hinder, run away like a black metal fan at a Justin Bieber concert. 3 Years Hollow are of a heavier vein, borrowing from Disturbed and Sevendust and adding serious melody to accompany the powerful aggression. Their sound includes the three H's: heaviness, hooks, and harmonies. The production, courtesy of Clint Lowery, plays to all these strengths simultaneously and the various components intertwine in a winning combination that may very well provide the modern rock realm a sorely needed shakeup.
The best song is the first single, "Chemical Ride," and it's a killer tune packed with a slamming stop-start rhythm and an impossible-to-ignore chorus. The opening track, "The Devil's Slave," practically defines what a modern hard rock song should sound like, serving up an anthemic chorus with fiery guitars and the kind of organic catchiness that eludes most bands. Hungry for more? Then "Hungry" is for you, another hard-stomping, ear-crushing, heavy rocker that spikes the energy into the red zone.
Because the modern rock world is a bloated behemoth, it's easy to roll our eyes and give a blasé shrug when another band emerges. But talent will always ascend through the ranks of subpar contemporaries. 3 Years Hollow are one of the superior modern hard rock bands you will hear in 2014 and that's not empty hyperbole. If you're a fan of the genre, do not let this album slip through the cracks.
Genre: Modern Hard Rock
Band:
Jose Urquiza (lead vocals)
Tony Reeves (guitar)
Neil Kuhlman (guitar, vocals)
Dex Digga (bass guitar, vocals)
Chris Cushman (drums)
Track Listing
1. The Devil's Slave
2. Chemical Ride
3. For Life (feat. Clint Lowery)
4. The Cracks
5. Fallen
6. Taken By All
7. Hungry
8. Run Away
9. We Belong
10. Take the World
11. Lost
12. Remember
Label: Imagen Records
Webpage: www.threeyearshollow.com
Hardrock Haven rating: 8/10