Dead By April | Let The World Know
by Matt Karpe
– Senior Columnist —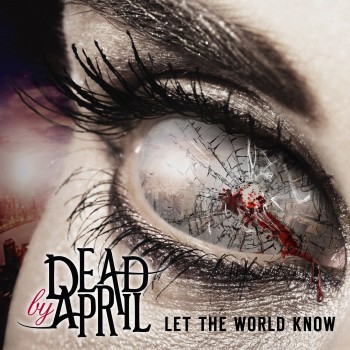 Swedish quintet Dead By April's third album Let The World Know sees a change in their line-up, but no change in their melodic metal sound that has become synonymous with the Gothenburg band.
Scream vocalist Christoffer Andersson replaced founding member Jimmie Strimmell early in 2013, but he duals with clean singer Zandra Santiago in effortless fashion.
"Beautiful Nightmare" starts the album with the familiar electronica that consistently lays the foundations in everything that Dead By April do well. The metal guitar riffs from Ponus Hjelm are as heavy as ever, and the drumming from Alexander Sveningsson packs a ferocious punch. Andersson's vocal style is in the same mould as fellow Swede's In Flames' Anders Friden and as Santiago excellently delivers the hugely melodic chorus, you see that the band haven't lost the chemistry that was evident on their self-titled and Incomparable albums.
"Empathy" has a slight death metal feel with the destructive drumming and brutal guitar work before melody takes over once more.
"Done With Broken Hearts", "Same Star" and "Peace Of Mind" all find Santiago at his best, dominating the tracks with his boy band style vocal tones in choruses that are brilliantly catchy and infectious, making these three songs the true highlights of Let The World Know.
You get the feel that Dead By April are a lot more comfortable with the shorter three and a half minute max songs, which are fast paced and never give up the energy, as opposed to the more constructive simmering songs that sometimes take that little bit longer to ignite. This is underlined by "As A Butterfly" which at just under five minutes in length, has an extended intro of chugging guitar rhythms and hard drumming, but because of that slow burning build up, loses intensity by the time the track reaches its summit.
"Freeze Frame" deserves a mention as it is one of the most complete metalcore songs you will hear. The guitar and bass work is harder than nails and Andersson is at his best with the vicious howls he exploits. The chorus is strong and the instrumental dominates the faint use of electronics on one of the rare occurrences.
"Replace You" ends the album with a delicate ballad which slows the pace down nicely. The complete clean vocal performance is excellent and a small string arrangement adds some extra emotion as the lost love lyrics tug the heartstrings.
Dead By April fans won't be disappointed with Let The World Know, but they probably won't find anything new either. The mix of metalcore, alternative metal and electronica, which sometimes feels more like treading into dub step waters, is clearly where Dead By April feel most at home. The thing that has always set them apart is their knack for writing catchy hooks and great choruses, and in that sense, you can consider their third album a success.
Let The World Know finds Dead By April in consistent form, which is good enough for now.
Genre: Melodic Metalcore, Electronic
Band:
Christoffer Andersson- Scream Vocals
Zandro Santiago- Clean Vocals
Pontus Hjelm- Guitars
Marcus Wesslen- Bass
Alexander Sveningsson- Drums
Track Listing:
1. Beautiful Nightmare
2. Abnormal
3. Empathy
4. Done With Broken Hearts
5. As A Butterfly
6. Same Star
7. Let The World Know
8. Peace Of Mind
9. Freeze Frame
10. Infinity x Infinity
11. My Tomorrow
12. Hold On
13. Replace You
Label: Universal Music
Website: www.deadbyapril.com
Hardrock Haven Rating: 7/10