by Justin Gaines
– Senior Columnist/News Editor —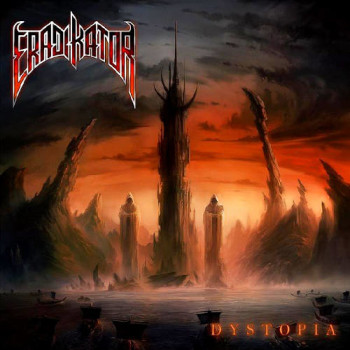 The second wave of Divebomb Records' new Bootcamp series is here, and unlike the first wave, which focused on bands from decades past, this wave puts the spotlight on new bands whose demo releases didn't get the attention they deserved. The second band in the series is UK-based thrash metal band Eradikator. The Divebomb label's love of UK thrash is well documented (see reissues of Deathwish, DAM, Slammer and Toranaga), so they are the perfect label to give Eradikator's previously self-released 2012 debut Dystopia another shot at reaching thrash fans.
Dystopia is a very heavy, very aggressive old school thrash metal album. Comparisons to fellow UK thrashers like Onslaught and Deathwish are obvious, but there's a lot in Eradikator's sound that is reminiscent of Bay Area bands like Testament, Death Angel and to some extent early Metallica. Punishing guitar riffs and a gruff vocal delivery dominate the album, which aside from a couple of instrumental intro-type tracks is pretty much non-stop headbanging from start to finish. There's a great energy throughout the album, and a classic thrash appeal that doesn't sound gimmicky (which is hard for a lot of new thrash bands to pull off). Standout tracks include "World of Compulsion," "Hell's Sentinels" and the epic "Judgment Before the Throne" (which has a total Ride the Lightning vibe).
Divebomb's Bootcamp reissue of Dystopia includes includes new booklet and a very memorable, very rowdy cover of Thin Lizzy's "Cold Sweat" as a bonus track. Like all Bootcamp releases it is limited to 500 units.
This one was well worth the second look. Dystopia is a very strong thrash metal album that fans of Testament, Metallica, Xentrix, Onslaught and the like should very much enjoy. If classic thrash metal – from either side of the pond – is your thing, Eradikator is a band worth discovering.
Genre: Thrash Metal
Band:
Pat Cox (b) (v)
Jon MacNevin (d)
Andy MacNevin (g)
Liam Priest (g)
Track Listing:
1. Dystopia
2. Skeletal Steel
3. Hell's Sentinels
4. Dark Legions
5. Across the Sea of Black
6. Overthrow
7. The Compound
8. World of Compulsion
9. Judgment Before the Throne
10. Odysseus
11. Utopia
12. Cold Sweat
Label: Divebomb Records
Website: www.facebook.com/eradikatoruk
Hardrock Haven rating: 8/10