Everthrone | Evil Tongues
by Justin Gaines
– Senior Columnist/News Editor —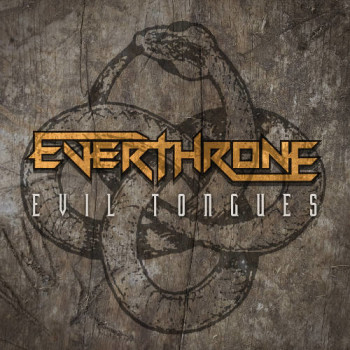 The second wave of Divebomb Records' new Bootcamp series is here, and unlike the first wave, which focused on bands from decades past, this wave puts the spotlight on new bands whose demos or self-released material didn't get the attention they deserved. The third band in the series is South Carolina-based progressive metal band Everthrone. Previously active under the name Merzah, Everthrone puts a decidedly unique spin on the progressive metal genre with their debut album, titled Evil Tongues.
Everthrone has such an interesting approach to metal here. They start with a foundation of straightforward progressive metal and borrow heavily from the gothic and darkwave sounds, even throwing in some harsh vocals for emphasis (and a Projector-era Dark Tranquillity vibe) on a few tracks. Think Evergrey (or a less noodly Dream Theater) meets later Sentenced. You wouldn't expect to find progressive arrangements and synth-pop elements side-by-side, and you certainly wouldn't expect it to work this well, but the results are undeniable. Evil Tongues is an album that satisfies on multiple levels. You can admire it in terms of sheer musicianship, there is plenty of traditional metal heaviness to sink your teeth into, the synth elements add an unexpected dimension that the progressive metal genre is sorely lacking at times, and the almost pop-ready melodies just lodge each song directly in your brain. The vocals are another huge highlight. Russell Plyler has a very strong, very melodic voice, and he displays a great sense of power and range here. It's telling that the almost acapella "Cast Out" is one of the album's most moving songs. Other highlights are the very heavy, very atmospheric "Gilded Throat," the completely infectious "Remnants" and the totally fitting closing cover of Real Life's '80s pop hit "Send Me an Angel."
Divebomb's Bootcamp release of Evil Tongues is limited to 500 units and features new artwork and a full color booklet. More importantly it puts this overlooked modern gem in the hands of those of us who still believe music should be held as well as heard.
Evil Tongues is a highly enjoyable and very impressive debut from one of the brightest new stars in the American progressive metal scene. Everthrone takes an unusual approach to the genre, but taking chances and pushing the boundaries is what progressive metal is supposed to be about in the first place. If you like your progressive metal on the (very) melodic side, you do not want to miss this album. It should also have enough crossover appeal that fans of Circus Maximus, Redemption, Dark Tranquillity, Persefone, Amaranthe, Evergrey, Sentenced, Dream Theater and Atrocity can all find something to love.
Genre: Progressive Metal
Band:
Jeremy McKeown (d)
Nevin McKeown (g)
Chris Carland (k)
Russell Plyler (v)
Track Listing:
Silent
Remnants
The Snake and the Lamb
Cast Out
I Am Usurper
Hope Behind Our Eyes
Euphoria
Gilded Throat
Send Me an Angel
Label: Divebomb Records
Website: www.facebook.com/Everthrone
Hardrock Haven rating: 9/10