by Justin Gaines
– Senior Columnist/News Editor —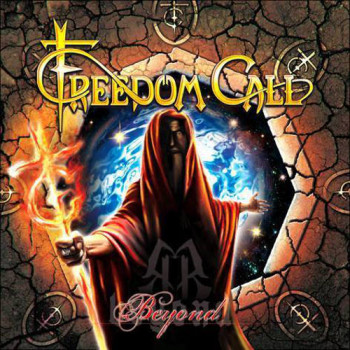 Freedom Call – a.k.a. the happiest power metal band in the universe – are back with a new studio offering, their eighth overall, titled Beyond. The long-running German band took a risk with their last album – 2012's Land of the Crimson Dawn – where they mixed in quirky, Edguy-style rock songs with their usual shiny, happy, power metal. It wasn't terribly well received, so the band is back on (very) familiar territory with Beyond.
If you have at least one older Freedom Call album, you probably know what to expect from Beyond. The band basically takes the Helloween formula and makes it even faster and more melodic. Between Chris Bay's melodic guitar work and his high-pitched vocals, it's hard to sit still when a Freedom Call album is playing. Beyond takes the band back to the familiar lyrical territory of warriors, enchanted lands and unity in metal. Yes, it's cheesy and yes, it's a little weird to hear battle hymns sung in such a high octave, but it's so damned hard to resist when these guys get going. Only "Come on Home" and "In the Rhythm of Light" bear a resemblance to the quirkier songs from the previous album. The rest – especially "Union of the Strong," "Knights of Taragon" and "Journey Into Wonderland" – are back to basics Freedom Call anthems.
Freedom Call may not be breaking any new ground here, but chances are if you've stuck with the band this far that probably won't bother you too much. Beyond is a very solid, totally enjoyable addition to the Freedom Call discography, and will probably be a most welcome return to form for those fans that were turned off by Land of the Crimson Dawn. If you're new to the band or a casual fan it's really hard to beat those first three albums. Either way, if you're a fan of bands like Helloween, Gamma Ray and Gloryhammer, you need to have some Freedom Call in your collection. Go forth, Knights of Taragon!
Edition Notes: There is a limited box set version of Beyond that features deluxe packaging, a poster and a second disc with live and unplugged tracks. It's a nice looking release, and a cool display piece for those who still buy physical media.
Genre: Power Metal
Band:
Ilker Ersin (b)
Chris Bay (v) (g)
Lars Rettkowitz (g)
Ramy Ali (d)
Track Listing:
1. Union of the Strong
2. Knights of Taragon
3. Heart of a Warrior
4. Come on Home
5. Beyond
6. Among the Shadows
7. Edge of the Ocean
8. Journey Into Wonderland
9. In the Rhythm of Light
10. Dance off the Devil
11. Paladin
12. Follow Your Heart
13. Colours of Freedom
14. Beyond Eternity
Label: SPV Records
Website: www.freedom-call.net
Hardrock Haven rating: 7.5/10