House of Lords | Precious Metal
by Alexandra Mrozowska
– Colomnist —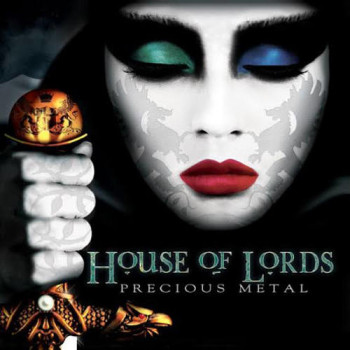 Staunch House of Lords fans can't really rail against the politics of their favorite band – just a few months after James Christian's solo album Lay It All On Me saw the light of day, the newest collective effort of the whole group arrives – entitled Precious Metal. And as for every album of theirs – well, maybe except the infamous 2004 release The Power And The Myth – what the quartet delivers is a solid dose of melodic hooks and bombastic choruses. They're not to wander off the path they took years ago also in the case of their newest album – so that House of Lords, a band with a brand's recognition in the world of melodic hard rock, proves again they're held in high esteem not without a reason.
House of Lords' musical legacy – that James Christian bravely continues – shines through in tracks such as the opening "Battle" or "Action," powerful guitar-oriented tracks with quintessentially killer choruses and certain flavor of catchiness to them. The band gravitates towards AOR in "Live Every Day (Like It's The Last)" (enriched with great soloing from Jimi Bells) or more dynamic "I'm Breakin' Free" and flirts with more contemporary sound in "Raw." There are slightly weaker moments, such as the synthesizer-driven "Enemy Mine", yet – on no account should anyone call them fillers. And as for the obligatory ballads, there is a place for them as well – "Turn Back The Tide" and the eponymous "Precious Metal" are the showcase for James Christian's stunning vocal performances (after all, it's the same man who sang his heart out on "Remember My Name" and "What's Forever For" years ago, and the time that passed had little to no impact on his voice and form). There is Jimi Bell with his six string adeptness – reaching a perfect compromise between the dynamism and melody – and the stellar rhythm section of Chris McCarvill and BJ Zampa playing as good as ever song after song.
Precious Metal is a perfect reflection of House Of Lords A.D. 2014 – the experience of the band members doesn't rule out the enthusiasm heard throughout the record, and following the well-tried formula is what they do best. Chorus after chorus and one excellent guitar solo after another, they bring back what was best during the '80s era of bombastic arena rock anthems – while, at the same time, there is no question about them ever sounding outdated. Most certainly any House of Lords fan won't be disappointed with the band's newest album, as well as each and every melodic hard rock aficionado. Highly recommended.
Genre: Melodic Hard Rock
Band:
James Christian – lead vocals, guitar, keyboards
Jimi Bell – guitar
Jeff Kent – keyboards, bass, backing vocals, songwriting
B.J. Zampa – drums, backing vocals
Chris McCarvill – bass, backing vocals
Track Listing:
01. Battle
02. I'm Breakin' Free
03. Epic
04. Live Every Day (Like Its The Last)
05. Permission To Die
06. Precious Metal
07. Swimmin' With The Sharks
08. Raw
09. Enemy Mine
10. Action
11. Turn Back The Tide
12. You Might Just Save My Life
Label: Frontiers Records
Web: https://www.facebook.com/houseoflordsofficial
Hardrock Haven rating: 9.5/10