Linda and The Punch | Obsession
by Jenn Carbaugh
– Columnist —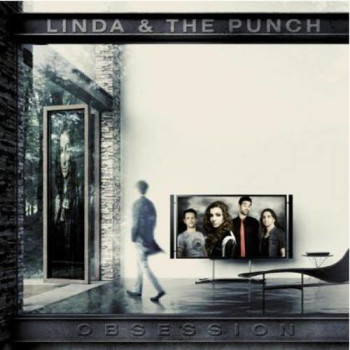 Linda and The Punch are a young English band that are planting a firm foot in the modern rock industry. Linda's voice is a prominent forefront for their album, Obsession. Her voice is an odd mix of sweetheart meets Pat Benatar sass. The contributions from this album come from Steve McEwan (Robbie Willams, Foreigner, Roger Daltrey), Herman Rarebell (Scorpions), Tommy Denander (Paul Stanley), and is produced by Michael Voss.
Linda is only 21, but she has a powerpop sound that melts into rock riffs. This album has ballads, anthems, and some pieces of punk attitude all mixed in one.
"What a Shame" is a crisp opener that starts the album off with a punk frame. Between the melodic context and Linda's vocal range, the variety of this album is showcased really well. Obsession is refreshing in a way that each song differs from the next. Sturdy riffs start each song and support Linda's voice throughout the entirety of the album. "Kill the Lights" is one of the heavier songs, but there is still cohesion within the other songs.
"Nothing of Anything" has an expressive heaviness and angst that propels a good combination of punk attitude and soulful melodies. There are also catchy, anthem-like, songs on this album. "Cold Cold World" and "Welcome to London" add a bright tone to some of the more emotional songs because they are appealing. This album seems to follow the tradition of AOR melodic rock, and it works so well for the band.
The album ends with a cover of "Because the Night" by Patti Smith. Linda and The Punch took this classic anthem and slowed it down a bit as well as making it somewhat heavier. With musical comparisons, it is difficult to pinpoint who Linda and The Punch sound like because they are multi-dimensional. They aren't just a compliant rock band that has a female lead. There is power in her clean vocals with great range ability. They are definitely a band to watch because of the dynamic vocals and melodies. This is a recommended album for sure.
Genre: Melodic Hard Rock
Band:
Linda – vocals
Torsten Asemann – bass and vocals
Tim Edler – keys and vocals
Ralf Heyne – guitars and vocals
Oliver Ross – drums and percussion
Track Listing:
01. What A Shame
02. Cold Cold World
03. Welcome To London
04. Wake Up Dreaming Of You
05. Nothing Of Anything
06. Bite
07. Looking Out For Number One
08. Kill The Lights
09. Lost Of Words
10. Love Kills Me
11. Because The Night
Label: Escape Music
Website: www.escape-music.com
Hardrock Haven Rating: 8/10