by Mark Allen
– Senior Columnist —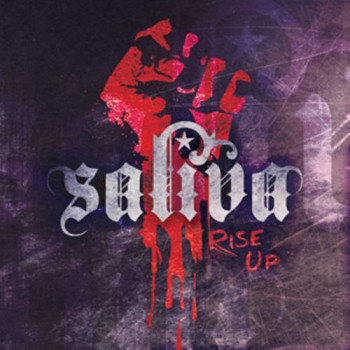 Fans of radio-friendly modern hard rock should be—wait for it—salivating to get their ears on this album. The addition of new vocalist Bobby Amaru (replacing original singer Josey Scott) seems to have injected new energy into the band after their last few albums sputtered along on vapors.
While Saliva began as a rap/nu-metal act, over the years they evolved in the direction of a modern hard rock sound, not dissimilar to the approach adopted by their contemporaries Papa Roach. While latter-day albums always featured at least a couple commercial rock anthems designed to snag the ears and ascend the charts, Rise Up is the first Saliva album on which every song is radio-ready. No filler, all killer, as the cool kids say.
Modern hard rock connoisseurs who relish big choruses and a plethora of hooks will have a new favorite album. Granted, originality is about as scarce as a virgin in Playboy, but that's not the point. The band expertly nails the commercial rock format and that is the point. In other words, this may be the rock 'n' roll equivalent of fast food, but it's high end fast food, where the burger is juicily grilled, the bun perfectly toasted, the condiments spiked with hot sauce to give them some bite, and the toppings cool and crisp. If that doesn't make you hungry to hear this album, it should at least make you … hungry.
Most fans predicted the dissolution of Saliva when Scott departed and there will still be some loyalists who refuse to accept Amaru despite the fact that he is arguably the superior singer. While he lacks Scott's distinctively rough rasp, he is a better fit for this melodic, radio-targeted direction the band has taken.
Don't let overuse of the term "radio-friendly" trick you into believing this album is barren of balls. Sure, it's chock full of catchy hooks and arena-size choruses, but the guitars have plenty of face-smacking crunch, the drums pack a punch, the production emphasizes the beefy brawn, and the whole affair sports a heavy edge. No, you won't mistake this for the latest Slayer album … but nor will you mistake it for Blink 182.
There's plenty of the now-standard Saliva attitude in the lyrics as well, nicely exemplified on "Army," with tough-guy prose like, "Put your money where your mouth is / 'Cause there ain't no way around this / I'll knock you down from the top / You think you can stop me / You and what army." Expect some NFL team to license this track and make it their theme song next season.
"Rise Up" is the lead single and it's the track that most strongly hearkens back to oldschool Saliva, with a verse that borders on nu-metal but explodes into an anthemic, fist-pumping chorus with slamming guitars and gang vocals galore. "Redneck Freakshow" is pure hard rock swagger with bone-rattling rhythms and infectious energy, not unlike what you might hear on a Blackstone Cherry album. And if it's a big ballad you crave, then that's what you get with "Closer," which comes with an extra dose of melodic melancholy to accompany the powerful chorus.
With all due respect to Josey Scott, this new album with a new singer is the best of the group's career and could give them a new start. If you get turned on by kickass modern hard rock, then prepare to feel a tickle in your ear and a twitch in your pants, because Rise Up will make you do just that.
Genre: Modern Hard Rock
Band:
Bobby Amaru (vocals)
Wayne Swinny (lead guitar)
Dave Novotny (bass)
Paul Crosby (drums)
Track Listing
1. Rise Up
2. She Can Sure Hide Crazy
3. No One But Me
4. Lost
5. 1000 Eyes
6. Redneck Freakshow
7. Choke
8. Army
9. Closer
10. In It To Win It
11. The Enemy
12. I Don't Want It
Label: Rum Bum Records
Webpage: www.facebook.com/Saliva
Hardrock Haven rating: 9/10